President Donald Ramotar, Venezuelan President Nicolas Maduro and members of their respective governments will meet this Saturday at the Guyana International Con-ference Centre (GICC)  for bilateral talks.
This is according to a release on the agenda for Maduro's one-day state visit,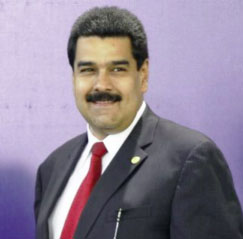 which was released by the Government Information Agency (GINA) yesterday.
Once in the country, Maduro is scheduled to meet with Ramotar at the GICC for bilateral discussions, while their government officials hold separate talks at the same venue.
Following the meeting at the GICC, the parties will proceed to State House for lunch prior to holding a press briefing. GINA added that the visit will wrap up with a social event at the GICC which will see the participation of civil society.
Maduro is the successor of former Venezuelan president Hugo Chavez and is considered by many to be his protégé.
"The visit will be Maduro's first since becoming president of the Bolivarian Republic, to a country that has maintained a longstanding, fruitful and mutually beneficial relationship for a number of years," GINA stated.
Venezuela is a very important regional partner for Guyana and several agreements between the two countries currently offer a variety of economic benefits for both parties.
According to GINA, "Guyana is a beneficiary under PetroCaribe, a stewardship initiative under Chavez which has allowed signatory nations to benefit from cheap Venezuelan fuel."
Continuing an arrangement set up under former president Bharat Jagdeo, the two countries, in May, entered into an agreement which will see Guyana supplying Venezuela with 140, 000 tonnes of paddy and 70,000 tonnes of white rice. In addition, Venezuela helped fund the recently-commissioned US$2 million Hugo Chavez Centre for Rehabilitation and Re-integration,
GINA said that Ramotar has reaffirmed the Guyana government's commitment to work with Venezuela in order to enhance their relations. This, Ramotar was quoted as saying, can be done through the consolidation of existing programmes or cooperation and exploration of new areas that will preserves a climate of mutual respect.
Around the Web