The PNCR and Culture Ministry are mourning the passing of Keith Booker, MSM, and remembers him as a distinguished public servant who served in myriad roles associated with nation building.
A trained teacher, youth development specialist, lieutenant colonel in the Guyana National Service (GNS), musician, cricketer church man, cultural advisor and permanent secretary are among the many roles Booker played during his 70-year sojourn, the ministry said in a press release.
Booker was born in Ann's Grove Village, East Coast Demerara on December 20, 1943 and died on August 16, the PNCR said. For his service to Guyana,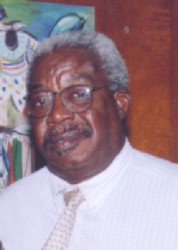 he was bestowed with the Military Service Medal (MSM).
Added to his distinguished contributions to national development, he also served as a public service administrator and "a proud but quiet activist/elder" in the African East Coast Village Movement, the ministry said. Within the ministry he "superintended many initiatives …inclusive of Carifesta preparations and the earlier conceptualization and construction of the Ministry's national sports infrastructure," the ministry said.
US-based Professor Vibart Cambridge observed that "The arc of Keith Booker's career as a public servant was closely connected with initiatives associated with development, especially those associated with building national cohesiveness though youth and cultural engagements."
Subject Minister Dr Frank Anthony and Permanent Secretary Alfred King lauded Booker's initiatives. King said his late predecessor was his mentor even before he (King) administered the President Youth Award Republic of Guyana programme and acknowledges the "rich legacy of public service Booker has rendered to the nation."
Long-time friend Allan A Fenty recalls meeting Booker on the first GNS boat on its maiden trip to the Kimbia Centre. "Keith Booker was indeed a great story teller, a musician in his spare time, as well as a proud folk-oriented "culturalist" who coined and used words like "bang-gam-ary" and "ting-a-merry." I'm old enough to have seen Keith mix and enjoy exchanges with his close friends of distinction, including Clive Lloyd, our cricketing great, Director of Culture, James Rose and Samuel Small, veteran educator," Fenty said.
The leader and executive committee of the PNCR and the ministry extended its condolences to Booker's widow Daphne Joy, children Junior and Kay, relatives, friends and colleagues.
Around the Web