An Office of the President (OP) employee was yesterday charged with being in possession of an illegal firearm and ammunition.
Kennard Jabur, of Lot 27 Norton Street, was remanded to prison by Chief Magistrate Priya Sewnarine-Beharry at the Georgetown Magistrates' Court, where he was arraigned on two charges.
He was also charged with having an unlicensed 9mm handgun and four matching rounds in his possession along Brickdam,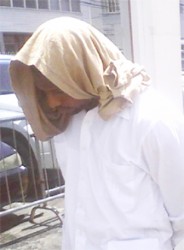 on September 3 while not being the holder of a firearm licence. He pleaded not guilty to both charges.
Prosecutor Bharrat Mangru said that on September 3, Jabur was riding his motorcycle CG 8212 along Brickdam without a helmet. This, he said, prompted police officers to stop Jabur and they then searched him and found the firearm and ammunition.
Mangru objected to bail, stating that no special reasons have been provided by Jabur. He also noted that the offence is a serious and prevalent one.
As a result, Jabur was remanded to prison until September 18.
Around the Web