An 88-year-old woman was yesterday tied up and robbed by a man wielding a toy gun at her Strathspey, East Coast Demerara home.
Mangree, (only name), of Lot 144 Strathspey North, was found by her daughter on the floor of the bottom flat of their two-storey home, several hours after she was choked, and tied up by a man who was once employed as a painter at the house. The suspect, who hails from Coldingen, is currently on the run.
Parbattie Ramlal was on her way back from the market when she saw a large crowd gathered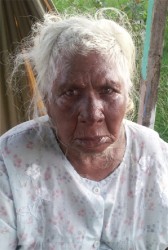 in front of the yard. "I came home around 2:30 and all of the neighbours went in front of the yard like something happen and I end up jumping the fence and that's when I see she tie up on the floor with the cloth in her mouth," the woman said.
Ramlal said that her mother relayed to her that the man who committed the act was the same person who they had employed as a painter at their home.
"She used to cook for this man and he paint our house… is such a handsome guy, I never expect him to do something like this. He tie she up and take the keys and go upstairs and thief some rings, valued $75,000, a chain and $20,000," she explained, while noting that her mother informed her that the man wielded a toy gun.
"Like he been mean to kill she…he stuff she mouth with a cloth and all she food that she de cooking leff on the fire. Lucky thing it ain't burn down the house," she added.
Ramlal said that the man had robbed them before but they forgave him and they did not think that he would try to rob them again. "He robbed us in June… he took a camera, some cash and jewellery. We reported it, but we never followed it up because we seh he won't come back. We called the police this time and they came promptly, so I am glad for that," she added.
At the home, the visibly-shaken Mangree was being consoled by relatives and friends.
Neighbours said that they did not see anything amiss, and the relatives believe he gained entry from jumping a fence at the back of the house.
Around the Web