A female taxi driver will forever be grateful to the vigilant members of the East La Penitence Community Policing Group who managed to rescue her after she was abducted by two armed men who had hired her to take them to a city location.
Though the incident occurred last Wednesday, Gaynor Hestick is still terrified. She believes that had it not been for the CPG members she would have been dead.
Up to late last evening she was helping the police to track her BlackBerry cellphone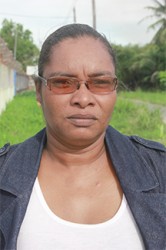 which was stolen during the incident.
She told this newspaper yesterday that it was around 12.50 am on Wednesday that she was passing a car wash on Hadfield Street where she usually cleaned her car and noticed it was still open. Despite the hour, she said, she decided to have her car washed since the person who usually does that for her was on duty.
Hestick, who owns a taxi service and also operates a car rental service, said she was about to leave when two guys who she knew approached her and asked to be taken to Stevedore Housing Scheme.
She said there was a taxi base nearby but the drivers who were there were busy watching a movie. The woman said that because she was familiar with the men she decided to transport them.
Recalling that one sat in the back seat while the other sat next to her in the front passenger seat, she said that when they arrived at their destination "the one at back came out and come to my side and put a knife to my neck… Like a hatchet."
The woman said she had a Taser in her driver's side door and as she attempted to reach for it, the man in the front seat saw her. "The one next to me pulled out a gun and said, 'don't think about it'. I turn and said y'all know me and this is what y'all gon do to me?" she said. The man with the gun then hit her about three times and she began to feel dizzy.
"They tie my hands behind my back and my feet and put me in the back seat," she said, adding that the men then drove the vehicle to Meadow Brook Drive. As they reached the end of the street, Hestick said there was a CPG patrol coming out and this apparently caused the bandits to become uneasy.
The vehicle with the CPG members then turned back and as they approached her car, the two men exited and ran onto the dam that links that area to Sophia and Guyhoc Park. Hestick said five CPG members pursued the men, but they had to stop after a while because the area was too dark.
A sixth member, she said, stayed and untied her. In addition to her phone, the men made off with $265,000 which she had collected earlier in the day after doing a transaction in relation to her car rental business.
She said that in her 15 years in the taxi business this was the first time she has had such an experience. She explained that she started out as a dispatcher, worked her way up to a managerial position and was later able to start her own taxi service.
Hestick said that she has not fully recovered from the ordeal.
Asked why she operates so late at night she explained that she has issues with her blood pressure and as such would try to stay out of the sun. She said that during the day she tends to her other businesses.
"I work in the night and catch my hand. I hardly pick up work from the base. People call me directly. I don't do road work," she stressed adding that when she picked up the duo she was not scared because she knew them.
"If it wasn't for the [community policing patrol] they [would have] killed me because I know them," she said adding that if they just wanted to steal her car they would have left her in Stevedore Housing Scheme.
She added that in the light of her experience she plans to assist the CPG in whatever way she can and may even join.
She said that the police should offer taxi drivers more protection and that they should be granted firearm licences. She noted that the most they could do was screen who they picked up. "I will try to get my licence. This is my daily bread, my job… I have a 16-year-old going to UG and studying medicine," Hestick, who became a single parent after her husband's death in an accident two years ago, said.
She said that while she was in the back of the car "my daughter flashed in my mind… If they kill me what is going to happen to her."
Around the Web