The suspect in the murder of policeman Michael Cumberbatch will be making his first appearance at the Georgetown Magis-trate's Court today, according to Crime Chief Seelall Persaud.
Stabroek News was reliably in-formed that yesterday a file was taken to the Chambers of the Director of Public Prosecutions (DPP) and it was later advised that the La Grange resident be charged with the capital offence of murder. The previous day, Persaud had told this newspaper that the suspect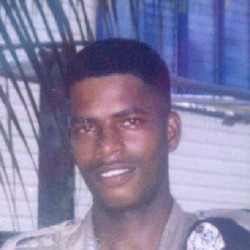 had confessed to the crime and was also identified during an ID parade.
Persaud had also said that it was acting on information received and based on the description given that ranks were able to arrest the man. This newspaper was told that the suspect was arrested around noon on Tuesday at a location in the West Demerara area.
Reports are that around 8.40 pm on Monday, Cumberbatch was shot and killed by a man armed with a handgun at his North Sophia Squatting Area home.
Investigations, according to the police, revealed that Cumberbatch was at home when he was confronted by the perpetrator, who was enquiring about someone named "Quacy". An argument ensued, during which he was shot to his chest and the perpetrator then escaped, police added.
One of Cumberbatch's brothers recalled hearing an exchange of words followed by two gunshots.
Sources close to the man said the policeman was killed because he had information about who committed a $17 million armed robbery in the city last month. They insisted that the suspect knew who he was going to kill as he had been hired by persons close to Cumberbatch.
They said too that he was dropped off and picked up by a white car, which persons visiting Cumberbatch had used in the past. One source urged that the police pressure the suspect to reveal who sent him and the location of the weapon.
Stabroek News has been told that since the incident the man's wife has not returned to the location and has not made contact with the man's relatives. Plans are being put in place to bury the slain rank on Monday.
Relatives yesterday appealed for consideration to be given to Cumberbatch's older daughter if the force decides to give out any money for his death.
The child lives with the slain policeman's parents at Good Hope, East Coast Demerara. Her mother died some time back.
Cumberbatch also had a three-year-old daughter with his wife of five years.
Around the Web