Two Albouystown youths were last evening shot dead and a third badly wounded after police opened fire on them on South Road in the vicinity of K&VC Hotel and relatives are disputing allegations that they were about to commit a robbery.
Confirmed dead are Jermaine Canterbury called 'Chow', 20, and Mark Anthony Joseph, both of Hogg Street, Albouystown. The duo were riddled with bullets, especially Canterbury, whose body bore numerous gunshot wounds. When they arrived at the Georgetown Hospital with police around 20:45 hrs Canterbury was already dead. Hospital officials told this newspaper that doctors were able to resuscitate Joseph, but he died shortly after.
The third man, who was identified as 19-year-old Romario Gouveia of James Street, sustained a bullet wound to his right side jaw. His condition is listed as critical but stable. Up to press time this morning, he was still undergoing emergency treatment at the hospital.
As he was being wheeled into the X-ray Department, the teen told the media that he was walking on the roadway when he was shot. He claimed that the police went up to him and "shoot me just suh. They put me fuh lay down and shoot me." Asked where the other two men were at the time, Gouveia who appeared weak said they had already been shot but were not dead. Persons in the vicinity of the hospital said they saw the police vehicle speeding towards the medical institution and then heard what sounded like two gunshots. Relatives and friends of the men alleged that it was at this moment that the men were shot dead.
According to Gouveia, he knew nothing more until he woke up in the hospital. Asked if he had surrendered to the police when he was shot, he stressed, "me ain't had nothing".
The teen's distraught mother Shirley Sooklall said that after receiving the news that her son had been shot, she rushed down to the hospital but was not allowed to see him. She said someone later told her that his two friends were dead and "he was the only witness that lef back". The woman told Stabroek News that she was scared that some harm would befall her son and as such wanted to move him to a private hospital where she believed he would be safe. She said she was told that she could not do that.
Sooklall said she was told by a relative who was at the hospital that Gouveia was riding with his friends when the police stopped them. Persons close to the men said that the men were on three CG motorcycles. According to the woman, she was told that the men surrendered and were placed in a police vehicle and taken to another location where they were shot.
Sooklall said she last saw her son on Friday adding that the two men who were killed were his friends. Sooklall said that officials at the hospital told her that her son was critical and that "ah mus pray fuh mah son".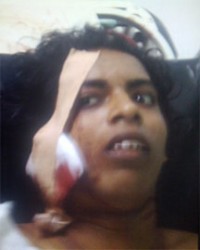 According to the information reaching this newspaper the police received information that the men were about to commit a robbery and were trailing them in unmarked vehicles.
There were also reports that the men traded bullets with the ranks.
But angry relatives and friends of the men, who were at the hospital, said that no guns were found in the men's possession, and dismissed all suggestions that they were involved in a robbery.
Up to when this newspaper left the hospital late last night persons were still there along with several police officers. The friends and relatives insisted that they were going to remain at the hospital to ensure Gouveia's safety.
At South Road two policemen on motorcycles were turning back vehicles that had already crossed over Camp Street. They later placed police tape and barricades at the corners of Camp Street and South Road and Alexander Street and South Road.
Persons were seen hurriedly exiting the K&VC Hotel. There was pool of blood on the roadway. A vehicle which was parked in front of the hotel was damaged by the bullets and was later taken away to the Brickdam Police Station. Persons at the hotel opted not to speak with the media and one said that he had heard gunshots and immediately secured himself until they ended.
Assistant Commissioner George Vyphuis turned up at the scene but was unable to provide details of what had transpired.
Wrong
Meanwhile, persons who witnessed the shooting expressed outrage. "That is wrong. That was murder," a man shouted angrily. The man said he was opposite Demerara Bank on South Road when one of the men was confronted by the police and ordered to open his pocket. "The man open he pocket and tek out and show it was his phone alone he had in he pocket," the man said, adding, "they can't kill people like that. That is wrong."
Stabroek News was told that after being confronted by the police, the man ran down South Road past the Ministry of Tourism. He was caught and taken back to the bank area.
It appeared as though the man at some point retaliated and there was a scuffle between him and a policeman. Eyewitnesses said the man and the policeman ended up in the nearby trench. After the two came out of the trench the police reportedly kicked the man before he and the two others were taken further up the road and shot in front of the hotel. Persons said the policemen were armed with AKs.
"They coulda tek them man and turn them man in," the man said adding that the men were not shooting at the police. "They tell them go down on de ground and turn them face and they shoot them man," an eyewitness said. Persons in the area recalled hearing multiple gunshots and on looking out they saw policemen running up and down the road. Persons also recalled seeing at least one man lying on the road.
Both of the dead men had brushes with the law. In December last year, Joseph, then 18 years old, was charged with snatching a policeman's gun during an attempt to arrest him. It was related to the court that at Camp Street, Joseph had robbed two Chinese nationals of money and a mobile phone. Police patrolling in the area were alerted by the victims and Constable Andrew Yaw was on Camp Street when he attempted to arrest Joseph.
However, Joseph then snatched the firearm from Yaw's waist and attempted to escape, during which time he was shot. A search was done on his person and stolen items were allegedly found. It is unclear what became of that matter.
Canterbury was among three persons charged in June 2010 robbing First Choice Jewellery Store and Pawnshop. It was alleged that on May 21, the then 17-year-old along with Avinash Ramcharran, 19, of 7 Cummings Lodge, East Coast Demerara and Leonard Allicock,17, of 21 Independence Boulevard, Albouystown robbed Rajendra Singh at gunpoint of gold jewellery valued $2.4 million, a cell phone valued $10,000 and $100,000.
Around the Web