Family members of the dead Guyana Geology and Mines Commission (GGMC) officer Patrick Ramkellawan say that a post-mortem examination (PME) was conducted on his body without their knowledge.
And they have been unable to get access to the results of the examination, which they hope will give them closure in the light of rumours concerning his demise.
Speaking with Stabroek News, Ramkellawan's niece, Shondell Fraser, said that after her uncle's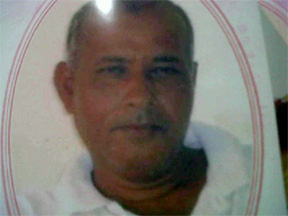 body was discovered on Monday, October 14, at Lillydale, Lower Pomeroon River, family members were told to travel to the Suddie Hospital, at Charity, Essequibo, to identify the body.
She said that at the Suddie Hospital, family members met a doctor, who led them to the body. But members of the family were not able to properly examine the body, she said, because they were told that it had started to decompose. Ramkellawan was identified from the clothing he wore.
Fraser said that while at the hospital, family members were not knowledgeable of the PME being done before or after their visit. They later learned that a PME was done prior to the family's visit to the hospital for the identification of the body, Fraser said.
Upon enquiring about receiving a copy of the PME report, Fraser said that the family was told to pick up a copy at the Georgetown Public Hospital (GPH). She said that when family members arrived at GPH, they were told that the PME report was not there and that it was normally issued at the hospital where the examination was performed.
Fraser said a phone call was then made to the Charity Police Station and she was told to contact Police Commissioner Leroy Brumell to uplift a copy of the report. "I hope this time we get [it]," Fraser said.
She expressed her despair at her uncle's demise and said the issue with the PME report adds to her despair, since Ramkellawan's body was buried on Wednesday, October 16, without any concrete knowledge of how he died.
She feels the family needs a copy of the PME report for closure, especially since the family has been hearing disturbing rumours surrounding Ramkellawan's death.
The body of Ramkellawan, 49, of Berbice, was discovered last Monday, two days after he went missing following a boat collision.
Ramkellawan, an employee at GGMC's Petroleum Division, was reportedly tossed overboard when the boat he was traveling in collided with a fishing vessel. No one else was injured.
Police had said that Edroy Grill, 22; Marlon Chappelle, 66; and Ramkellawan, 49, allegedly left a cricket match under the influence of alcohol and boarded a boat and, while travelling up the river, collided with a fishing boat which had no lights. The impact of the collision caused Ramkellawan to be tossed into the river and he immediately went under water, according to the police report.
Around the Web