On Thursday, two new nursery schools built at a cost of $64.5M each, were commissioned at Beterverwagting (BV) on the East Coast Demerara and at Diamond on the East Bank Demerara.
A release from the Government Information Agency (GINA) said that at the ceremony in BV, Minister of Education Priya Manickchand stated that the nursery sector was at the best place it had ever been, and this also held true for the education sector as a whole. "Guyana has this incredible thing that we can boast of, and that is, that 85 percent of the nursery aged children are in schools, it's much higher on the coast… this is the highest in the Commonwealth Carib-bean," she said.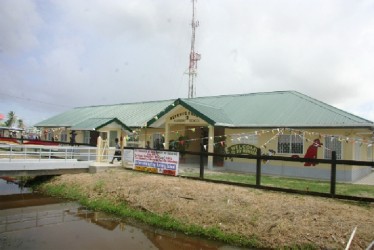 She said that while nursery education is not compulsory and children can start school from grade one, because of the facilities and availability of teachers, they have been attending school before the compulsory age.
Additionally, the minister said that the nursery system has approximately 69 percent trained teachers. "This school is a grand example of how well we are doing… 100 percent of your teachers at this school is trained," Manickchand said. Some of the Beterverwagting nursery school teachers are also graduates of the University of Guyana. This means that the students are more likely to have a higher quality of education.
Minister Manickchand noted that the percentage of trained teachers did not happen 'by magic' since Guyana has moved from a place where 30 percent of teachers were trained, to today where it is 70 percent. She said that over the years, the ministry has had to make conscious decisions regarding improvements to the Cyril Potter College of Education and salary enhancements among others.
The minister highlighted that while the government is committed to ensuring that students do well, parents also have a role to play. In this regard, she called on the parents to extend their interest in their children's education to the primary and secondary levels.
Minister of Finance, Dr Ashni Singh was also present at the commissioning ceremony since the project was funded by the Basic Needs Trust Fund under the Ministry of Finance.
According to GINA, in his presentation, Singh noted that while there are other demands among the other sectors, "our government has been resolute in its conviction that amongst all very legitimate competing demands for resources there is no better investment to make than in education, and in educating the young people of our country." He added that this is a commitment the government has made to the people of Guyana that there will be no greater priority than in ensuring the young people of Guyana are properly prepared for the future.
As a result of the investments that have been and are still being made in the education sector, Minister Singh explained that it is no accident that Guyana has achieved Universal Primary Education. "Because we set ourselves a target that no child in Guyana shall be denied a place/opportunity to access and complete primary education… to achieve this goal we ensured that primary schools were built throughout the length and breadth of our country… that they were equipped, that they were staffed," he said.
The Finance Minister said that having achieved Universal Primary Education, the next step is to achieve Universal Secondary Education and for this, the Education Ministry has articulated an ambitious programme that will ensure every Guyanese child has access and will be able to complete secondary education. This thrust is also being supported by a US$10M allocation.
GINA said that Singh also indicated that investments have also been made in the promotion of alternative education, referring to Technical and Vocational Education and Training.
Minister Singh also spoke about the development of Guyana's ICT thrust and the funding being made available for the University of Guyana. He said that the institution was given $50M to develop online programmes to make tertiary education more accessible.
Minister Singh added that while it is easy for people to criticise the system, it is time for Guyanese to stop standing on the sidelines, and to play their part in the upliftment of the education sector.
Diamond
The school in Diamond is the community's first nursery school, accommodating 120 students and staffed by eight teachers. The school comprises an auditorium, stage, kitchen, head teacher's office, sanitary facilities and class rooms, among other facilities.
GINA said that at the commissioning, Minister Singh cited Diamond as an area that has experienced accelerated development.
Minister Manickchand expressed her pleasure to be at the second commissioning of a nursery school for the day, and suggested ways how teachers can deliver quality education. She said that for this to happen, teachers have to challenge themselves to bring out the best.
She said that next year Guyana will be launching the Roraima Readers for nursery school students that will be published and produced by Guyanese. Persons will be able to buy these books or download them online for their children.
GINA said that the Education Minister urged, "Once we have your support and the government's continued investment in the sector, your children are set to be stars, so we ask you to help us with that start."
Around the Web