A light plane crashed as it tried to take off from Wakenaam yesterday afternoon, almost two years after it crash landed on the island en route from Trinidad to Timehri.
The Guyana Civil Aviation Authority (GCAA) will be sending a team to Wakenaam Island today to investigate the circumstances surrounding yesterday's crash of the US-registered aircraft, which had been repaired following the previous crash on the island, Director General of the GCAA Zulficar Mohamed told Stabroek News yesterday.
The small of the plane, a light Cessna C150 aircraft, was injured in the crash, reports stated.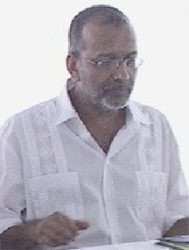 "Our people will be going in tomorrow (today) to determine what happened," said Mohamed. According to Mohamed, the GCAA had no reports of the pilot of the plane being injured. But according to the sources this newspaper spoke with, the pilot received injuries and was treated at a hospital.
Attempts to reach Minister of Transport Robeson Benn for a report on the incident proved futile yesterday as calls to his mobile number were not answered.
A source on the island said that the plane had been on the island since the 2011 crash and its owners had been visiting the island for the past months trying to repair it and make it airworthy again.
"The plane was trying to take off. It had barely lifted off when it toppled two or three times…it is a complete write off," a source said. He stated that the pilot is in hospital as a result of the injuries he suffered in the crash.
According to the source, who preferred to remain unnamed, the plane had made an attempt to take off on Thursday afternoon, but this was abandoned after one of its wings clipped a tree.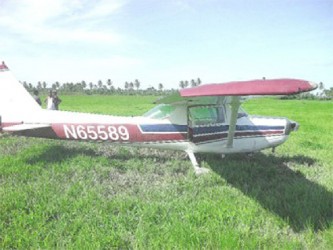 "They had tried yesterday afternoon but the plane wing hit a tree," said the source. "The owners of the plane had been looking it after… they had been going and coming a lot to fix it," said the source.
The plane crash landed in November 2011 in a rice field after it had run out of fuel. The plane was said to be on its way from neighbouring Trinidad and Tobago to the Cheddi Jagan International Airport, Timehri (CJIA). During that crash, the two occupants, its owner and the pilot, escaped with minor injuries.
According to the GCAA, investigators found that several factors had influenced the flight that day in November 2011, including head winds which forced the aircraft to utilize all its fuel before reaching Timehri. The GCAA confirmed that the plane had been on a test flight at that time.
On the day of the flight the plane was expected to make a scheduled fuel stop at the CJIA. However, the plane came down approximately a mile from the airstrip which had been constructed on the island. The aircraft suffered structural damage as a result rendering it grounded until it was repaired only to fail again.
Around the Web