Finance Minister Dr Ashni Singh charged more than 100 students of President's College who performed well at the 2013 CSEC and CAPE exams to continue to pursue excellence as they have always been considered high achievers.
Speaking at the school's 23rd annual graduation and 28th anniversary ceremony held on Friday evening on the college tarmac, Singh said the school had performed exceptionally well. This year, PC recorded an 84.5 per cent pass rate at the Caribbean Secondary Education Certifi-cate (CSEC) and 94.7 per cent passes at the Caribbean Advanced Proficiency Examination (CAPE) which is a significant improvement when compared to previous years, a report from the Government Information Agency (GINA) said.
"Today you leave President's College as fine young citizens of Guyana… [from] a system which government has not been shy to invest in, and one which has been making great strides year after year," Singh said. He told the students that they are, almost by definition, strong achievers and while they have much to celebrate, much more work is ahead of them as real excellence is a never-ending pursuit.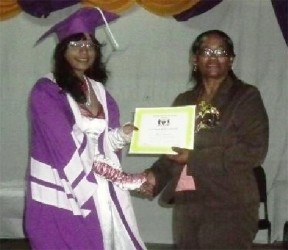 "It is not only to say that I belong to a good institution, or I graduated or  got good results, but the fact of the matter is that success is never ending and you must continue to work hard," he said.
"Our country has invested much in you and indeed much is expected of you… there is much hard work and service ahead of you… your country needs you," he told the graduates, even as he charged their parents and teachers to continue their hard work as it has had a tremendous impact on the success of the sector. The minister noted that education ministry has also been recording excellent results from schools in Linden, Essequibo, Georgetown and Berbice.
In her address, Education Minister Priya Manickchand said she is satisfied with the college's performance and noted that it has improved significantly over the years.
"You would notice how much the conversation has changed from over the last five years, how much we have changed as a country and a college," she said.  "We used to talk about access, now we are talking about how we can achieve quality education, which also involves teacher training," she added. Manickchand then encouraged the graduates to continue on the path of success.
"You get to decide what you want Guyana to be tomorrow and decide what you will do to bring about that Guyana you would like to see." She also commended the parents and guardians, teachers, heads of department and other staff who have contributed to the students' success.
Shalita Appadu led the list of awardees. She copped first place at CAPE and topped the country with six grade ones and one grade two. Aarif Baksh followed with one grade one, four grade twos and one grade three, and Kevin Garbaran with one grade one, three grade twos and two grade threes.
At the CSEC, Melissa Asregado placed first with 11 grade ones and one grade two followed by Edrianna Stephen with 10 grade ones and two grade twos and Kerrie Hooper with eight grade ones, four grade twos and one grade three.
Prizes were also given to students who placed first, second and third in their respective classes and certificates were distributed to those who participated in the President's Youth Award Programme (PYARG).
Around the Web