Beeswax lip gloss and other byproducts of the apiculture industry were on display yesterday outside the New Guyana Marketing Corporation as part of the Guyana Apiculture Society's (GAS) 'Honey Day', which sought to raise the profile of the fledging industry.
Several producers of honey and honey byproducts participated; mostly members of the society. Other exhibitors were drawn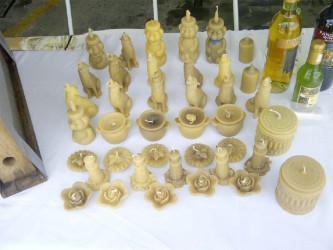 from organisations such as the Guyana Women's Artist Association, some of whose members use beeswax in their textile designs.
"Our main objective… is an awareness programme for the public, so that the public will understand the importance of bees, pollination and the medicinal value of honey," GAS President Linden Stewart said.
Though honey was the star of the show, its byproducts drew much attention. Cakes made with honey, honey roasted nuts, honey mustard sauce, beeswax candles and even beeswax lip gloss were among the products on display and for sale.
There were also informative talks and a demonstration of how to protect oneself against attack from bees.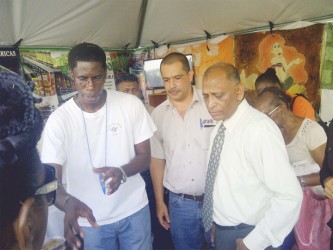 Stewart pointed out that bees are essential in terms of our food supply, and even went so far as to opine that bees are the backbone of agriculture. He decried the harsh reactions of people when it came to the bees.
Minister of Agriculture Dr Leslie Ramsammy and the head of the Inter-American Institute for Cooperation on Agriculture (IICA) Wilmot Garnett attended the event. The Ministry of Agriculture and IICA work closely with the producers.
Ramsammy stated in a brief speech that the ministry, IICA and the Food and Agriculture Organisation (FAO) will continue to work with the producers/ farmers in ensuring that they have market for their products.
Meanwhile, he announced 'Pineapple Day' will be held on December 3. He said more such initiatives will be organised to ensure that local produce moves from "good" to "better".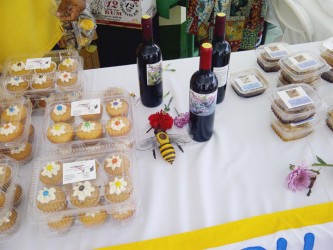 Moreover, Ramsammy noted that plans are being made to take such events to all parts of Guyana in collaboration with the Ministry of Tourism.
Participating in the 'Honey Day' were the CSK Apiaries- Karl Persaud, Kingdom Apiary, Mangrove Reserve Producers, Ravi Rajkumar Honey Work and Apiary among others.
The event started at 10 am and ended at 5 pm.
Around the Web