A week after allegedly illegally imported meat was confiscated from her store, Jap's Halaal Meat Market proprietor Marcelle Rahaman is denying that she sold tainted meat and says moves against her business seem "political" in nature.
"Those things are not true. I do not sell stink beef. Over 12 years we selling beef and we never got a complaint about it before, we always sell clean meat. We get our meat from reputable people. These people are claiming that we have wormy beef, but they found no worms. Tell me something, worms does live in freezers?" Rahaman told Stabroek News.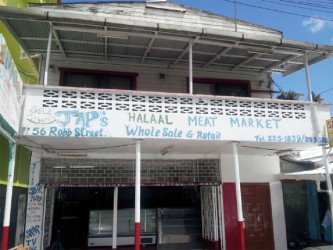 Last Thursday, several city constables and armed policemen had swooped down on the Robb Street store after receiving a tip off that the store had unsanitary meat. Some 589 kilogrammes of meat were seized from the Lot 56 Robb Street store by city constables acting on instructions from Acting Town Clerk Carol Sooba
Rahaman informed that the meat seized was Qurbani meat, which does not carry a stamp. "The only problem with the meat is that it wasn't stamped. Nothing else was wrong with the meat," the woman said.
Qurbani meat is meat that is slaughtered as part of a sacrifice and Muslims generally distribute one third to poor or vulnerable people, keep one third for their families and the final third would go to their neighbours.
The woman said the meat that was seized was to be distributed. "This meat was meant to be shared out to family and friends. It was not on display, it was in the freezers," she said.
According to the woman, the persons who made the complaints about the meat were her neighbours with whom she has an ongoing dispute. She said they were trying to close down her business. "Over 12 years now we have been going through this with my neighbours at the back. They claiming that we getting illegal beef. First they said it was stolen meat, then they say it was unmarked and the next thing they said was that the meat had worms inside," the woman said.
Rahaman also said that the building is not for sale. "They are trying to take over the property and they are trying to sell the property so that I would have to close down my business. We are not selling the building."
Sooba had said that the meat seized from the store was unsanitary and that the store was unlicensed and unregistered and that was the reason for the seizure. At a press conference called by Sooba on Wednesday, Mayor and City Council Meat and Food Inspector Jagdeep Singh had informed that the confiscated meat was destroyed after it was discovered that it was unfit for human consumption.
Meanwhile, at a press conference held yesterday by Mayor of Georgetown Hamilton Green, Deputy Mayor Patricia Chase-Green said that there cannot be a letter of closure without a resolution by the council for the town clerk to execute. "There was a letter asking him to clean the premises. They did not give any specific amount of time. They just say it should be cleaned. That was the letter issued to him. There was no mention of rotten meat or anything. She is most unprofessional in this matter… It appears to me that there is a personal vendetta towards a particular councillor who is not in favour of her being town clerk," Chase-Green said.
Councilor Ranwell Jordan chipped in to say that the acting town clerk has no authority to instruct officers to close down the shop. "The closure can only be done by the resolution of the council. It is not the town clerk, doctor or officer," the councillor said.
"She made claims that the owner of the store is a member of the People's National Congress and that tells you the angle that they have taken," he added.
Around the Web