The Caribbean Examina-tions Council (CXC) lauded and awarded the region's high-flyers for this year at a ceremony held at the National Cultural Centre on Thursday evening. Topping the list was Guyana's Yogeeta Persaud of Anna Regina Secondary School, who attained 18 grade one passes at the Caribbean Secondary Education Certificate (CSEC) exams. She received the most outstanding candidate overall award.
Giving the vote of thanks at the end of the proceedings, Persaud thanked all who played a role in her success and that of her colleagues as well. "I am delighted, honoured humbled, to express words of appreciation on this significant occasion," she said. "Today is undoubtedly a special day… We are indeed fortunate and thankful that splendid efforts are being highlighted and ceremoniously rewarded," she added.
Persaud also expressed gratitude to God, quoting Lord Tennyson: "More things are wrought by prayers than this world dreams of."
In addition, she relayed the appreciation of all awardees: "A big thank you to our teachers, no earthly scale can measure our gratitude for you.  You are certainly the engineers of our success…"
Students from Guyana, Jamaica and Trinidad & Tobago won awards for outstanding performances in Sciences, Business, Humanities, Technical/ Vocational Education at CSEC. In the Caribbean Advanced Proficiency Examinations (CAPE), they were awarded for excellence in Natural Sciences, Mathematics, Business and Modern Language among other categories. Tasanique Henry of Jamaica became the first recipient of the CXC/ Pearson Humanities Award. She received US$1,000 and a two-week internship with Pearson Caribbean. Formerly a publishing company, Pearson is now an educational solutions provider and offers print-based publishing, the latest digital e-learning technologies and internationally recognised qualifications and effortless assessment solutions. Sheena Daley, Caribbean Regional Director for Pearson presented the award.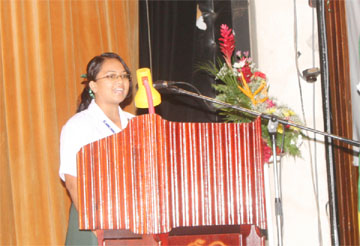 CXC Registrar Dr Didacus Jules, in his speech, noted the "…successes and achievements, as well as the failures and persistent difficulties…" of CXC. Jules said the 40-year-old CXC "…has established itself as a recognised benchmark of educational accomplishment at secondary and post-secondary levels." He added that "We have played a major role in the harmonisation of the standards and the content of secondary education…" and noted that what CXC has achieved has obscured other essential dimensions of its original vision.
Over six million Caribbean people from 19 participating territories are being served by CXC, according to the registrar. He then paused to address the naysayers of CXC and informed the audience of the importance of rewarding candidates for their achievements. "So it is necessary that we celebrate those who have shown exceptional accomplishment in our various examinations…" opined Jules.
CXC Chairman E Nigel Harris continued the praise allotted to the exceptional bunch of pupils. He then charged the custodians of education to influence students to be creative in the field of discovery. Furthermore, to ensure that they become "constant workers, to be imbued with a sense of ethical behaviour and responsible citizenship…" against the backdrop of the times these students are being born into.
The feature address was given by President Donald Ramotar, who spoke with admiration of the achievement of the students. "…Guyana is extremely proud of the performance this year… The achievements of our students who are here tonight, and others [remind] us of the great potential… in the Caribbean… It is a testament of a culture built on the importance of education…," he said.
He opined that "It is really through education and successes like these and promotion and improvements in the region's overall performances… that as a people we can change our fortunes and move the region collectively… to one where our people are leaders in the forefront of breakthroughs, systems, progress and processes, that can change the global economic, scientific and even the engineering architecture…."
He also argued that the region needs to have a focused attitude to motivate and develop a knowledge-based economy. He lobbied for CXC to make Spanish and Portuguese compulsory subjects.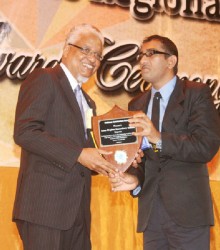 CSEC Awards
Most Outstanding Can-didate:
Overall – Yogeeta Persaud, Anna Regina Secondary School Guyana
In Sciences – Cecil Cox, Queen's College, Guyana
In Business Education – Sasha Woodroffe, Queen's College, Guyana
In Visual Arts, 3-Dimensional Work – Ramolyn Hunt, St Mary's College, Jamaica
In Humanities – Rafena Mustapha, Saraswati Vidya Niketan, Guyana
In Visual Arts, 2-Dimensional Work – Aimee De Montbrun, Holy Name Convent (Port-of-Spain) Trinidad & Tobago
In Short Story writing – Nathaniel Adiah, Presen-tation College (Chaguanas) Trinidad & Tobago
In Technical/Vocation Education – Zimeena Rasheed, Anna Regina Secondary School Guyana
CAPE Awards
Most Outstanding Can-didate
Overall (Denis Irvine Award) – Dea Thomas, Adrenne High School, Jamaica
In Mathematics – Maryam Archie, St Joseph's Convent (San Fernando) Trinidad & Tobago
In Humanities (Pearson Award) – Tasanique Henry, Hampton High School Jamaica.
In Natural Sciences –  Jean-Luc Duval, St Mary's College, Trinidad & Tobago
In Business Studies – Shelemiah Peterkin, St Joseph's Convent (St Joseph) Trinidad & Tobago
In ICT – Stephen Prince, Hillview Trinidad & Tobago
In Technical Studies – Elise Francis, St Joseph's Convent (San Fernando) Trinidad & Tobago
In Environmental Science – Ronan Narine, North Eastern College, Trinidad & Tobago
In Modern Languages – Zakiyah Ali, St Joseph's Convent (Port-of-Spain) Trinidad & Tobago
In Modern Languages – Brendan Hatch, Fatima College, Trinidad & Tobago
Around the Web