A Venezuelan boat captain yesterday admitted to being found with an illegal gun by police.
Joel Pereira Rodrigues, 29, pleaded guilty to a charge of possession of a .38 revolver while not being the holder of a firearm licence when he appeared at the Georgetown Magistrates' Courts. He was, however, remanded to prison in light of the absence of a representative from the Venezuelan Embassy at yesterday's proceedings.
Addressing the court through an interpreter, Rodrigues, 29, pleaded guilty to the charge but denied a claim that he pointed the gun at John Gobin. Police say Gobin reported that he was threatened by the man on December 3, at Arora Backdam, Cuyuni River, which led to the search and discovery of the gun in Rodrigues' possession.
Prosecutor Bharat Mangru told Chief Magistrate Priya Sewnarine-Beharry that Rodrigues was approached by Gobin, whom he owed $36,000, about the repayment of the money. This led to an argument and Mangru said Rodrigues pointed his gun at Gobin, who subsequently reported the occurrence to the police. Later on during that same day, the prosecutor added, police officers contacted Rodrigues and a search was conducted upon him. During this search, a gun was discovered in a pocket of his pants, resulting in his arrest.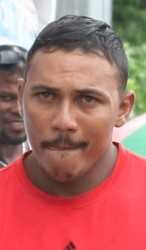 The interpreter informed the court after translating the police's claims to Rodrigues, the man wanted the court to know that the weapon hadn't any bullets.
After his guilty plea, the Chief Magistrate asked that Rodrigues be informed that the offence of illegal possession of a firearm attracts a mandatory penalty of imprisonment and also a fine. When the    interpreter reiterated the magistrate's statement, Rodrigues said that he was in possession of the gun because of his job.
Magistrate Sewnarine-Beharry called on Constable Brian Sookra, who is attached to the Criminal Investigations Department (CID), to take the stand as a witness.
Sookra stated that he called the Venezuelan Embassy and spoke to the Consulate's secretary, who refused to give her full name to the police. He added that the secretary informed him that embassy personnel were unavailable to attend court on the behalf of Rodrigues. He added that he was also informed that a representative from the embassy will visit Rodrigues while he is at prison.
The Chief Magistrate then enquired from Rodrigues whether he wished to continue with the proceedings or whether he would wait until a representative from the embassy was available. Rodrigues said that his wife, who speaks fluent English, will be visiting Guyana today.
The magistrate subsequently decided to adjourn the matter until                next Wednesday, when Rodrigues is expected to appear with his wife and/or an embassy representative.
Around the Web