A miner was yesterday found dead with a wound to his neck along the Five Star Trail, Port Kaituma, North West District.
Dead is Terrence Adams, 57 years, of Laluni Street, Queenstown.
Police in a release said that the body of Adams was found along the Five Star Trail, North West District with a wound to the neck.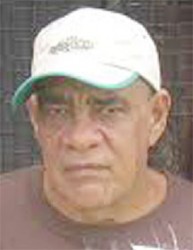 Adam's wife told Stabroek News that her husband was expected to be home for Christmas. "He was supposed to come home today (yesterday) but he didn't. One of the guys that he was talking to last called and said that he was killed…like he was left there all night and till the next morning somebody that was passing saw his body. That man is a bandit.
He killed my husband," the distraught woman said. She said that they have three children together and he has two from a previous union.
A source said that Adams was a well-known businessman in the area. They also added that two months ago someone stole from Adams and they believe that it was the same man who was held for his murder. The source also noted that there have been frequent murders in the area and that there have been repeated calls for more police patrols in the area.
According to the source, after the police left with the body of Adams, a man went to a shop to sell gold that apparently belonged to Adams and was held by the residents and handed over to the police.
Stabroek News also understands that Adams' body was flown out to Georgetown yesterday.
Recently there has been a spike in murders in the interior. On Friday last, the body of miner Clement David of Baramita, North West District was found with marks of violence to the head  on the roadway at Baramita.
In previous weeks, three other miners were killed in a similar manner. Two Sundays ago, the decomposed body of miner Andre Hercules was found with his feet and hands bound at Long Island, Middle Mazaruni, Region Seven. The week before, miner Michael Morris of Cummings Park, Sophia was beaten to death at West Park Backdam, Cuyuni. Another miner, Terrence France, was found with chop wounds in a mining pit at 8 Miles Backdam, Port Kaituma on December 1.
Around the Web