In the wake of an alarming upsurge in crime including several execution-style murders, the Ministry of Home Affairs yesterday announced that approval has been given for a SWAT (Special Weapons And Tactics) Unit, a move which Opposition Leader David Granger believes is not needed.
"The Ministry of Home Affairs wishes to advise citizens that Cabinet has approved the establishment of a SWAT Unit for the Guyana Police Force", the Ministry said in a press release yesterday afternoon.
The release said that the initiative is aimed at strengthening the Force's law enforcement capabilities.  "With a SWAT Unit, the Guyana Police Force would be better placed to make specialized interventions, thereby, ensuring law and order is maintained, and prospective threats are neutralized", it said adding that the Ministry has engaged the services of 'The Emergence Group' (TEG), a Washington-based consultancy firm, to obtain the requisite assistance in this initiative.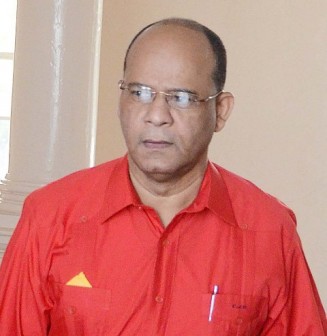 The process will commence shortly with an 'Organizational Needs Assessment' to be done by experts from the consultancy firm, according to the release. It added that the curriculum development and training, including mentoring, will also be undertaken by the consultancy firm.
"The establishment of a SWAT team has received the full support of the leadership of the Guyana Police Force", it said. There was no mention of where members of the team were taken from and several efforts to make contact with Home Affairs Minister Clement Rohee for clarifications were futile.
Granger in an invited comment told Stabroek News that the announcement comes as no surprise to him as similar ones have been made before but for reasons best known to the government and the Police Force, the SWAT team was never established.
He noted that about ten years ago a team of British police instructors came down and conducted a training exercise. He stressed that ranks were trained but nothing came out of it.
According to Granger these announcements are made "every time the government faces a serious security crisis. They trained persons but it (the unit) was not fully established".
He said that many studies have been done previously and recommendations made over the last fourteen years as it relates to criminal activity and the state of the Guyana Police Force but government has failed to put any serious reforms into action and have instead been using "bits and pieces". One of these is the long-stalled Disciplined Forces Commission report.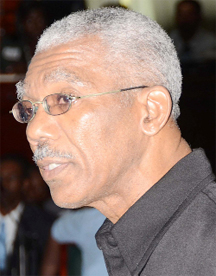 Granger, a retired army Brigadier who has experience in the area of security issues reiterated that there needs to be serious reforms so as to ensure that proper investigations are conducted and to ensure there are proper court systems in place. He said that at the moment what is lacking in the security sector is a highly qualified team and forensics capability.
According to Granger there is no certainty that the SWAT team that the government will be establishing will not evolve into another "black clothes squad" (the former Target Special Squad).  He said that attention has to be paid to effective policing and the effort on the part of government to deal with the causes of crime. He said that among the root causes of crime are narcotics trafficking and gun-running.
Using Sunday's execution-style killing of Essequibo businesswoman Shelliza Basir-Lall as an example, the opposition leader noted that the establishment of a SWAT unit is "not going to solve that". He noted that the existence of criminal gangs calls for investigation.
Granger stressed that there is need for proper investigations and more policemen on the streets. He added that the Force needs to be brought up to strength and resources such as aircraft and All-Terrain Vehicles given to ranks so as to adequately patrol the interior regions.
Asked where the members of the SWAT unit would most likely come from given that the Force is already understaffed, Granger opined that "they will probably come from TSU (Tactical Services Unit).
Stabroek News made contact with AFC leader Khemraj Ramjattan but he requested time to review the contents of the press release and also to consult with his party members before a comment is made.
Other pressing issues
A security source expressed belief that the Force has other pressing issues to deal with including increased manpower and the boosting of investigative skills. The source noted that while he is not ruling out the introduction of SWAT he believes that at the moment, there are other pressing issues that should be addressed.
The source said that a SWAT team is required if armed men are "holed up in a place with heavy weapons". The source said that this team would be like a combat-style component of the Force.
According to the source, members of this team require special training and weapons and the members ought to have a high level of intelligence as they may need to make life and death on-the-spot decisions. "You have to select people who are intelligent…" the source stressed while questioning if the SWAT team would have the ability to deal with issues such as the murder of the Diamond businesswoman in August.
The source told Stabroek News that there were teams in the past – the Black Clothes unit and a special team comprising of soldiers and police, which resembled a SWAT unit.
According to the source, Guy-ana's crime situation has not reached the stage where such a special team is required in that there is no situation where bandits are cornered in a building or at some location.
The source noted that with SWAT it calls for the handling of small arms which are often concealed and members of the team must have the skill to hit targets. He said that the Black Clothes Unit (which was separate from the TSU), failed largely because the ranks were eventually put on patrols and could be seen brandishing heavy arms. The Target Special Squad was disbanded several years ago after its members were accused of extrajudicial killings, human rights abuses, extortion and protection rackets.
There has been a public outcry over the last few weeks about the upsurge in serious crime. When asked about this during a September 12th press conference, police commissioner (ag) Leroy Brumell said that citizens should not be pressing the panic button. However, the opposition, members of the business community disagreed. Up to that point there had been a wave of gun crimes in different parts of the country including Berbice. During an outreach at Meten-Meer-Zorg, West Bank Demerara less than two weeks later, Brumell urged residents to fight back the criminals.
Over the years there have been several announcements that a SWAT team would be set up after several calls were made.
In June 2002 then President Bharrat Jagdeo had announced Government's intention to establish the SWAT Team, along with several other measures to combat the rising crime rate. The team would have been a large enough group of specially trained officers and ranks, who would respond mainly to new forms of criminal activities.
The Rice Producers Association urged the Jagdeo administration to do this in 2008 in wake of the Lusignan killings.
GINA had reported Rohee as saying as long ago as January 2007 that a SWAT team would be set up. Training was conducted for this but the process was derailed because of compromised personnel, sources say.
A UK-funded security programme which was in the works five years ago was withdrawn by London after the Jagdeo administration suddenly threw up several objections. The government was opposed to some of the proposed comprehensive reforms including the placement of experienced overseas officers in the force. Despite this, the government at the start of this year launched a new series of reforms piloted by British consultants. These efforts have not borne fruit in terms of tamping down major crime or improving the arrest rate for the suspects.
Critics have also said that the force has a serious corruption problem and major reforms from top to bottom are needed to improve operational performance and rekindle public confidence in it. On Friday, the Head of the Georgetown Chamber of Commerce and Industry, Clinton Urling called for change at the top of the police force.
On its website, the Emergence Group says
"We design and implement world class Law Enforcement and Justice Sector Reform programs around the world. We adapt to host-country conditions, and are highly responsive to the needs and expectations of our funders and host-country partners.
"To implement our specialized programs, we maintain a gold-standard cadre of justice sector professionals, including police executives, judges, prosecutors, and correctional officials. In our technical assistance programs, we often work with senior-level Ministry officials who can directly impact justice sector development in their country.
"The Emergence Group brings technical expertise, cultural understanding, and the power of personality to bear on all of our programs. We pride ourselves on being an agile organization with a focused business strategy, which allows us to deliver world class services to our clients."
Comments

An outgoing passenger at the Cheddi Jagan International Airport, Timehri was last night caught attempting to smuggle just over 60 ounces of raw gold which was concealed in her suitcase, acting Police Commission David Ramnarine has confirmed.

Significant damage was recorded in the south of Dominica, as seen in this photo.

President David Granger yesterday called on the international community to ensure that Venezuela is not allowed to thwart the processes of judicial settlement of a long-running border controversy with Guyana.
The $550 million Doppler Weather Radar Monitoring Station, which was commissioned in 2009 with the intention of giving citizens ample warning of severe weather conditions, has been down for two weeks and the Hydrometeorologi-cal Service is waiting to procure a needed part from Germany so that it can be fixed, according to a source.

A Guyanese man who murdered his wife last December on a Richmond Hill, New York  street, nearly decapitating her with a kitchen knife, has been sentenced to 21 years in prison, prosecutors said yesterday.