After lifting multiple gold medals and smashed Commonwealth records to en route to earning Female Sports Personality of 2011,powerlifter, Dawn Barker was sidelined for most of 2012 due to an injury but is now healthy and aspiring to return to her winning ways.
"I have fully recovered from the knee injury and I will continue to strive to make Guyana proud," said Barker during a telephone interview with Stabroek Sport yesterday.
"I had some set backs last year because of the injury but this year I'm healthy and looking to ease back into competition".
Barker, 32, disclosed that she plans on competing in two competitions for 2013.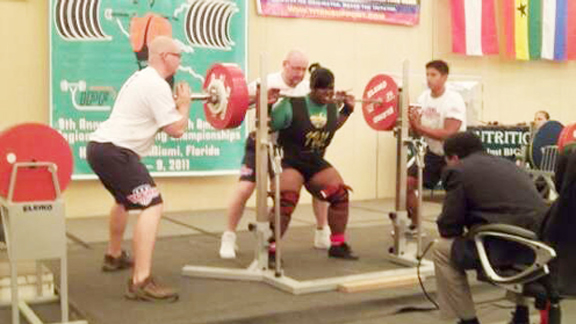 "Being injured and not being able to compete in the World Games qualifiers last October was very disappointing for me because that would have put me on the path to compete amongst the best in my field but everything happens for a reason, this year though I will be aiming to compete in two competitions".
The Commonwealth record added "With God's grace, I will be competing at the Pan Am /CAC Championships in Orlando, Florida in July and our local meet, the National Seniors in December and hopefully better all my lifts".
In Barker's lone competition of 2012 at the Caribbean Power lifting Championships in St Thomas, USVI in March, she copped a gold medal in the 84 plus kg class after she broke her own Caribbean record set in 2011 in the squat 240kgs (old 227.5kgs) and deadlift 195kgs (old 182.5kg). Her winning total was 550kgs (old 540kg)
In 2011, Barker competed in the 84+ kg divisions, was the gold medalist at the fifth International Power Lifting/North American Power Lifting Federation championships in the Cayman Islands as well as the best lifter after she established new records in the squat 227.5kg (500 pounds) and dead lift 182.5kg (401 pounds) to record an overall total of 517kg.
Her next feat came in July at the NAPF Championships in Miami, Florida where she performed a squat of 237.5kg (522 pounds) and a dead lift of 192.5kg (423.5 pounds) to amass a total of 540kg.
These records are all Commonwealth records.
Meanwhile, Barker thanked president of the Guyana Amateur Powerlifting Federation, Peter Green, her husband and family members as well as her gym mates from the Upper Demerara Barbell Club, especially  Colin 'Mr Clean' Chesney, Johnny Gravesande, Orin Alleyne, Godwin Edwards and Clint Duke for their continuing support and encouragement.
Around the Web