Hubern Blair scored the tournament's first hat trick to power Tucville secondary School past St. John's Secondary as the
Milo U20 schools tournament kicked off at the Ministry of Education ground yesterday.
Blair netted his goals in the 10th, 20th and 53rd minutes.
Played under glorious sunshine, the Tucville unit opened the first half clearly in control as they attacked their opponents through their silky passing and deft touches.
Abundant amounts of attacking opportunities were created compliments of the potent duumvirate of Blair and Denzel Green who continuously unlocked the St. John's defense.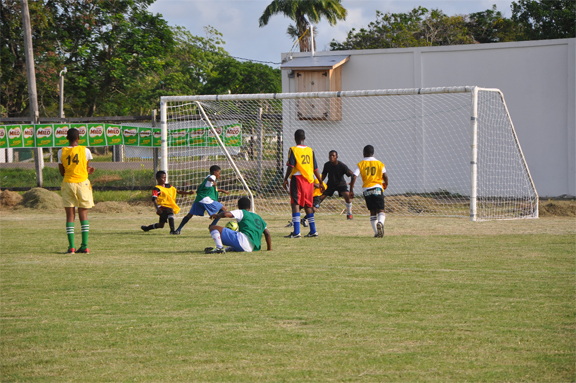 The skilful duo constantly led the attacking output for the Tucville unit as the under siege St. John's team struggled for consistency in the final third.  The constant pressure exerted by the attacking duo led to the stalemate being broken as a brilliantly worked move by the precocious Blair was expertly consolidated to send the small but vocal mass into rhapsodic jubilation.
The ensuring attacking pressure became a recurring theme as Blair and Green who added his name to the scorer's sheet in the 15th minute easily put the game beyond reach the halftime interval.
The second half progressed in the same manner as St. John's continued to be creatively ambiguous while easily playing into the hands of the more seasoned Tucville unit. Further misery was heaped on the boys from Waterloo as the talented Blair completed his hat trick in the 53rd minute, cementing his teams status as early tournament favourites. In the opening fixture of the day, Charlestown Secondary dismantled a lacklustre North Georgetown Secondary School 4-0 through strikes from Barron Dick 13th and 56th minutes, Aroudy Bransford 43rd minute and Ravin Naughton 50th minute while Christchurch Secondary hammered Ascension Secondary 6-0  through goals from Andre Trotz in the seventh  and 58th minutes, Nyron Joseph in the 19th and 28th minutes, Kadeem Blackman in the 52nd minute and Jovontay Best in the 59th minute to conclude the day's scheduled events.
Around the Web