Banks DIH Limited via its Malta Supreme brand on Wednesday donated over $100,000 to the Guyana Chess Federation's one-day Rapid Chess Tournament set for Sunday at UG's Tain Campus. The six-digit figure is the highest sum, to date, that has been donated by one entity to the one-day chess tourney. '
According to Banks DIH Communications Manager Troy Peters, the company is pleased to partner with the Chess Federation as it seeks to promote the game in Berbice. "We expect a very exciting tournament and we urge residents of Berbice to attend the event and offer support to the players," he said.
Meanwhile, GCF president Shiv Nandalall said he was delighted at Banks' timely move to fully sponsor the contest. He was encouraged by Banks' sponsorship, noting that it would motivate players to enter the tournament and compete for bigger prizes.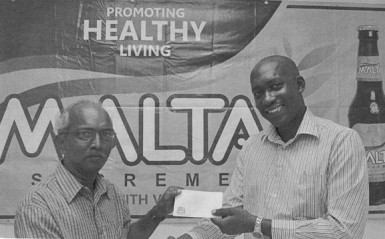 "Chess is a mentally demanding sport and it is called the 'gymnasium of the mind' for that reason," Nandalall said. "The competitions are brutal in their own respect but the landmark sponsorship such as that being provided by Banks DIH is a great motivating factor for players to enter the struggle for excellence. In this regard, the company is proving to all that it is indeed "committed to excellence", he added.
The cheque was presented by Clayton McKenzie, Banks DIH brand manager, non-alcoholic malts to GCF Secretary Vishnu Rampersaud at Thirst Park.
The tournament is open to all chess players. A contingent of players from Georgetown including National Junior Champion Anthony Drayton and his senior counterpart Taffin Khan is expected to travel to Berbice to participate.  Former national champion Kriskal Persaud, who hails from Berbice, is expected to be among the Berbicians vying for dominance.
Registration starts at the venue at 9am and the first pawn would be pushed one hour later. The fee for players under 20-years-old is $300 while others would be required to pay $500 each. Members of the GCF would pay a reduced fee.
The Swiss system competition comprises seven rounds and each player would be allotted 20 minutes on the clock during each of the seven matches. Clocks would be provided by the Federation.
Around the Web