The Seawall Bandstand Circuit will be transformed into a cycling speed way tomorrow when the Roraima Bikers Club (RBC) and Caribbean International Distributors Inc. teams up to pedal off the inaugural Blue Water Life Cycling Race Meet.
The crème de la crème of the nation's cyclists will be on their saddles to compete in the lucrative 10-race event which will commence at 10:00hrs.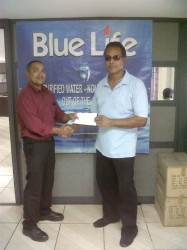 According to president of RBC, Brian Allen a total of $140,000 in prize money will be up for grabs. Allen also mentioned that the initiative to stage the programme on the Bandstand as oppose to the National Park, is to encourage more viewership of the races.
RBC's  own , the in-form Alonzo Greaves  (six wins for the season ) as well as other national cyclists, Junior Sportsman of the Year, Paul Denobrega, Raynauth Jeffrey, Robin Persaud, Enzo Matthews, Jude Bentley, Orville Hinds and others  will be vying for top honours in the feature 30-lap event.
The winner will pocket $12,000 while the other top six finishers will receive monetary prizes. 10 sprint prizes worth $1000 each will also be up for grabs during the course of the main race.  Other events carded for tomorrow's meet will include 12 to 14 Juveniles and Females (three laps), Juniors Category Four (five laps), Category 1-3 (five laps), Veterans' under 50 (five laps), Veteran's over 50 (five laps), Win and Out Open (eight laps), Points Race (Open), Mountain Bikes Open (five laps), and BMX Open (three laps).
The winner of those events will pocket $5000 each while the runners up will take home $3000 and $2000 respectively.
Officials of Caribbean International Distributors Inc. will be on hand to promote their products and to assist with the presentation of prizes at the end of the programme.
Around the Web