(Sports Direct) —- Al Jefferson had 22 points and eight rebounds and visiting Utah defeated Minnesota  96-80 to move within one game of the Los Angeles Lakers in the battle for the eighth and final playoff spot in the Western Conference.
Mo Williams scored 15 points and Randy Foye added 14 as the Jazz beat the Timberwolves for the fourth consecutive time this season. Utah close the regular season by visiting the Memphis Grizzlies on Wednesday and hold the tiebreaker edge with the Lakers.
Derrick Williams scored 18 points, Dante Cunningham tallied 12 and J.J. Barea added 11 for the Timberwolves.
Ty Lawson finished a 26-point night with the go-ahead jumper in the closing seconds as visiting Denver secured home-court advantage in the first round of the playoffs with  a 112-111 win over the Milwaukee Bucks.
Wilson Chandler scored 21 points for the Nuggets, who have won seven of eight and are on the verge of locking up the No. 3 seed in the Western Conference. They lead Memphis by one game and the Los Angeles Clippers by 1 1/2 with one game to play.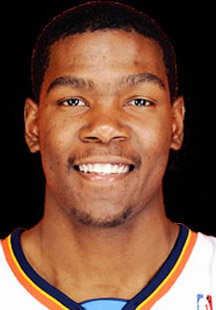 Monta Ellis had 38 points and a four-point play with 14.2 seconds left that gave the Bucks a short-lived 111-110 lead. Lawson answered with a jumper with 9.3 ticks remaining.
Jerryd Bayless scored 19 points as visiting Memphis got a season-high 64 points from their bench and won for the fourth time in five games in their 103-97 points defeat of the Dallas Mavericks.
Ed Davis collected 11 points and 11 rebounds for the Grizzlies, who nonetheless were locked into the fifth seed in the Western Conference playoffs when Denver beat Milwaukee on Monday.
Dirk Nowitzki poured in 26 points for the Mavericks, who must win their final game on Wednesday against New Orleans to avoid finishing below .500 for the first time since the 1999-2000 season.
Kevin Durant had 29 points, eight assists and seven rebounds as hosts Oklahoma City clinched the No. 1 seed in the Western Conference by defeating the Kings 104-95.
Russell Westbrook scored 21 points and Serge Ibaka added 14 and seven rebounds as the Thunder extended their winning streak to four.
Isaiah Thomas had 16 points and Cole Aldrich contributed 12 points and 13 rebounds for the Kings.
Andray Blatche had 20 points and 12 rebounds and scored the tiebreaking basket with 55.5 seconds remaining as shorthanded Brooklyn rallied to beat visiting Washington 106-101.
Kris Humphries added 20 points and nine rebounds for the Nets, who rested starters Deron Williams, Joe Johnson, Brook Lopez and Reggie Evans after being locked in as the No. 4 seed in the Eastern Conference with Sunday's loss to Toronto.
The Nets trailed by seven points with eight minutes to play.
After Blatche's go-ahead hoop, Taylor drained a three-pointer with 22 seconds left to complete the scoring.
Carlos Boozer scored 22 points to lead five players in double figures as visiting Chicago cruised to their fifth straight win over Orlando winning 102-84.
Luol Deng added 18 points and eight assists for the Bulls, who pulled within a half-game of idle Atlanta for the No. 5 seed in the Eastern Conference playoffs. Chicago hold the head-to-head tiebreaker over the Hawks.
Tobias Harris scored 20 points for the Magic, who fell into a tie with Charlotte for the worst record in the NBA.
Gerald Henderson scored 27 points and Kemba Walker added 23 as hosts Charlotte knocked off New York, who rested most of their regulars by 106 points to 95.
The Knicks secured the No. 2 seed in the Eastern Conference on Sunday, giving coach Mike Woodson a chance to sit Carmelo Anthony, J.R. Smith, Raymond Felton and others. New York will host Boston in the opener of a best-of-seven series this weekend.
Walker and Henderson combined to shoot 20-for-31 as the Bobcats shot a season-high 58.1 percent.
Norris Cole barely missed a triple-double with 16 points, 11 rebounds and nine assists as visiting Miami won their seventh straight game despite sitting their top players defeating the Cleveland Cavaliers 96-95.
Tristan Thompson had 16 points and 13 rebounds and Kyrie Irving and Dion Waiters scored 16 apiece for the Cavaliers.
Miami led by a dozen with just over nine minutes to play before Cleveland rallied. Irving hit back-to-back baskets to make it a one-point game, but missed a game-winning jumper with three seconds left.
Greg Monroe collected 27 points and 16 rebounds as Detroit closed out their home slate with a 109-101 victory over Philadelphia.
Will Bynum added 22 points off the bench and Kyle Singler scored 16 for the Pistons, who matched their season high with a fourth straight win.
Dorell Wright recorded 22 points, eight rebounds and six assists off the bench for the 76ers.
Stephen Curry hit seven three-pointers en route to 35 points and Golden State used a big fourth quarter to overcome shorthanded San Antonio 116-106.
Klay Thompson added 23 points as the Warriors took advantage of Houston's loss to move a game ahead of the Rockets for the No. 6 spot in the Western Conference.
Gary Neal scored 25 points off the bench to lead the Spurs, who sat Tim Duncan, Tony Parker and Kawhi Leonard.
San Antonio fell two games behind the Oklahoma City Thunder and must settle for the No. 2 seed in the West.
Luis Scola had 26 points and 15 rebounds and Goran Dragic added 21 points and 14 assists as Phoenix snapped its seven-game home losing streak by defeating the Houston Rockets 119-112 .
Houston cut the deficit to 114-109 with 1:28 remaining, but Phoenix scored the next four points and won for the third time in their last 18 games. The Rockets fell one game behind sixth-place Golden State in the Western Conference.
Chandler Parsons scored 24 points and Carlos Delfino had a season-high 23 for Houston.
Around the Web