BASSETERRE, St Kitts,  CMC – Leon Johnson and captain Dimuth Karunaratne struck centuries to add to the run feast at Warner Park, as the opening four-day "Test" finished in a tame draw on the final day here yesterday.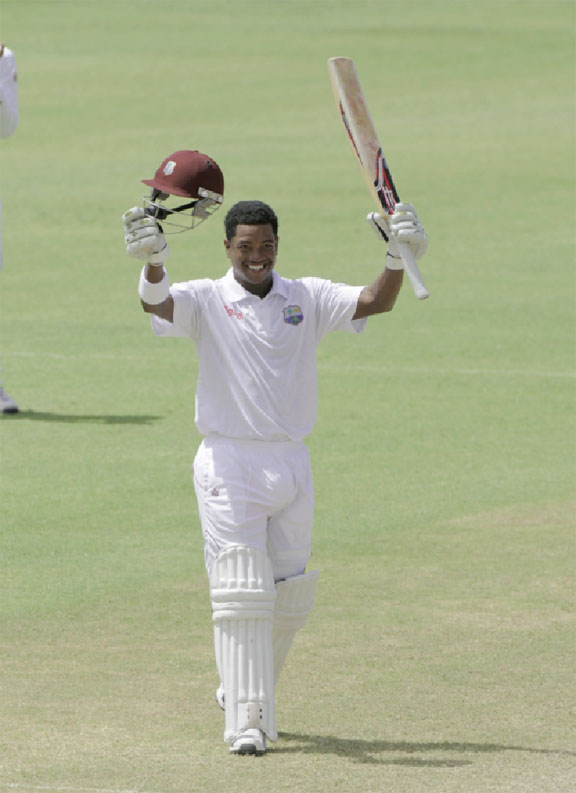 The left-handed Johnson carried his overnight 80 to 144, a knock that helped West Indies A to a huge 636 for eight declared in their first innings.
Tail-ender Nikita Miller was unbeaten on 50 at the end.
Off-spinner Tharindu Kaushal was the best bowler with five for 238 while left-arm spinner Angelo Perera claimed two for 69.
Karunaratne then stroked an enterprising unbeaten 100 from 109 balls as Sri Lanka A finished on 165 for four.
His knock brought to six the number of centuries in the game.
On Friday's third day, captain Kirk Edwards stroked a magnificent 190 while Assad Fudadin hit 145, as West Indies A dominated the Sri Lankan attack.
Edwards batted 404 minutes and faced 276 balls, stroking 26 boundaries and a six while Fudadin's innings contained 16 fours and a six, and spanned 409 minutes and 297 balls.
The pair added 256 for the second wicket.
Resuming the final day on 494 for five, West Indies pushed on despite losing wicketkeeper Chadwick Walton for six, bowled by Kaushal with just nine runs added for the morning.
However, Johnson combined with Miller to put on 95 for the sixth wicket and further frustrate Sri Lanka's bowlers.
Johnson faced 205 balls in 309 minutes at the crease and struck 19 fours and four sixes while Miller hit three fours in his 85-ball knock.
The partnership was broken when Johnson played back to one from Perera that straightened and was trapped lbw on the back foot.
With a lead of 164, Windies A made two early breakthroughs when fast bowler Shannon Gabriel removed Udara Jayasundara (3) and Kithruwan Vithanage (19) cheaply, to leave Sri Lanka on 50 for two.
Jayasundara edged a short lifting delivery behind while Vithanage was taken at second slip by Jonathan Carter as he flashed outside the off-stump.
Any hopes of a surprise win were squashed, however, as Karunaratne kept the Windies bowlers at bay with an innings containing nine fours and two sixes in 162 minutes at the crease.
The second "Test" bowls off next Wednesday at Arnos Vale in St Vincent.
Scoreboard
SRI LANKA A 1st Innings 472
WEST INDIES A 1st Innings
(overnight 494 for five)
K Brathwaite c Perera b Kaushal 37
A Fudadin c Jayasundara c De Silva 145
*K Edwards c Lakmal b Perera 190
L Johnson lbw b Perera 144
N  Deonarine lbw b Kaushal 8
J Carter b Kaushal 10
+C Walton b Kaushal  6
N Miller not out 50
V Permaul b Kaushal 6
S Cotterel not out 12
Extras   (b10, lb7, w1, nb10) 28
TOTAL (8 wkts decl, 138 overs) 636
Did not bat: S Gabriel.
Fall of wickets: 1-83, 2-339, 3-457, 4-480, 5-493, 6-503, 7-598, 8-619.
Bowling: Lakmal 21-2-53-0, Gamage 16-2-60-0, Kaushal 58-2-238-5, De Silva 27-6-87-1, Lakmal 23-2-77-0, Jayasundara 7-0-35-0, Perera 20-2-69-2.
SRI LANKA A 2nd Innings
U Jayasundara c wkp Walton b Gabriel 3
*D Kunaratne not out 100
K Vithanage c Carter b Gabriel 19
+K Silva b Permaul 17
A Perera c wkp Walton b Permaul 20
A Priyanjana not out 3
Extras (w2, nb1) 3
TOTAL (4 wkts, 39.3 overs) 165
Fall of wickets: 1-12, 2-50, 3-102, 4-136.
Bowling: Gabriel 8-3-23-2, Cotterel 4-0-25-0, Permaul 13-0-49-2, Miller 11-1-52-0, Deonarine 3.3-0-16-0.
Result: Match drawn.
Series: Two-match series 0-0.
Toss: Sri Lanka A
Umpires: G Brathwaite & N Duguid.
Around the Web