Beverage giants Ansa McAl officially concluded its 'Crown Your Community' promotion on Tuesday when it handed over a John Deere grass cutter valued at $600,000 to the management of the Mackenzie Sports Club's (MSC) as part of a $3m ground renovation.
Darshanie Yussuf, Public Relations Officer of Ansa McAl, said that the company desires the facility so serve the community and that this venture illustrates that the company is serious about development of sport from a holistic perspective.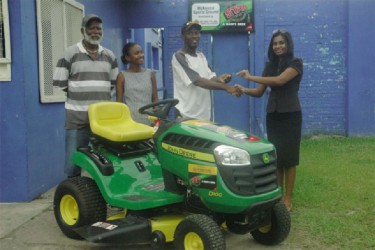 "We resurfaced the ground as MSC requested and as part of maintenance, we  handed over equipment that we're certain will give the ground a neat finish," added Yussuf.
Yussuf further said that the cost to resurface the ground amounted to $2.4m.
Treasurer of the MSC, Phillip Gibbons, thanked Ansa McAl for the gesture stating that the grass cutter will go a long way in taking care of the facility.
"We are not too happy that you had to come at a time when the ground is not fully completed but we are grateful for this gesture; it will ensure that we have a beautiful surface so that sports could come back to the MSC at a high standard," Gibbons said.
In addition to the field renovation, Ansa McAl Trading had also done Dressing Rooms aback the MSC Basketball Court. The Dressing Rooms was named after Linden's own James Brusche, a former national  basketball player and brother of Mike Brusche, former national player and coach.
The MSC was chosen as the venue for the makeover after the popular liming spot, Chicken's Bar in Linden had won the STAG Beer 'Crown Your Community' promotion.
The winner of the promotion was based on the community that had collected the most STAG Beer crowns (corks), and highest weight being adjudged the winner.
Around the Web