KINGSTON, Jamaica,  CMC– Christopher Barnwell kept his nerve conceding just four runs and picking up two wickets in the final over of the match as Guyana Amazon Warriors pulled off a tense five run victory over Jamaica Tallawahs, in the Caribbean Premier League (CPL) at Sabina Park here yesterday.
Tallawahs needed 10 runs off the final over of the match and Barnwell was given the responsibility of bowling it. He first removed the dangerous Vernon Philander for one, caught by Martin Guptill running around from long on and forced Dave Bernard Jnr to sky his first delivery to short fine leg where Ramnaresh Sarwan ran in to take the catch.
Captain Chris Gayle started cautiously before cutting loose  with 43 from 46 deliveries including  three fours and two sixes but when he was bowled playing over a delivery from Krishmar Santokie, the Tallawahs struggled to put meaningful partnerships together.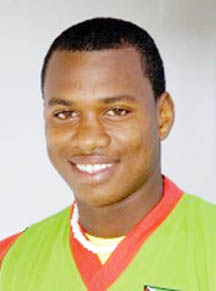 Gayle had added 46 for the third wicket with Chadwick Walton whose aggressive  36 came from 20 deliveries with  one boundary and four sixes. Jacques Rudolph and Andre Russell with 18 and 14 respectively tried to increase the run rate late in the chase but lost their wickets at crucial times.
Russell was caught by Narine off Santokie while Rudolph held out to Barnwell off Narine. Barnwell had the excellent figures of two for four from one over and Man of the match Narine picked up one for 10  from his four.
Having been sent in to bat by the Tallawahs, the Amazon Warriors lost three wickets in the final over that helped restrict their final tally to 139 for six  after  Lendl Simmons and Guptill had put on 68 for the first wicket off  9.5 overs.
James Franklin who top scored with 40 off 29 balls was one of the three to perish in the final over bowled by Philander. Before holding out in the deep to a catch by Andre Russell, the left handed Franklin struck one boundary and two sixes.
Mohammad Hafeez was run out by a direct hit from Dave Bernard Jnr, and Denesh Ramdin was caught by Chris Gayle off the last ball of the innings for two.
Simmons  hit 30 off 36 balls while Guptill's 39 came off 36 balls with five boundaries.  Philander finished with  two for 23 from his four overs with a wicket a piece going to Chris Gayle who trapped Hafeez leg before and Muttiah Muralitharan  who had Simmons caught by Russell running in from  long on.
Scoreboard
Guyana Amazon Warriors  139-6 (20 overs)
Lendl Simmons  c  Andre  Russell b  Muttiah Muralitharan                                  30
Martin Guptill   lbw  Gayle                                                                                                   39
James Franklin   c   Andre  Russell  b   Vernon Philander                                      40
Christopher Barnwell   run Out  (Philander)                                                                11
Mohammad Hafeez   (run out  (Bernard Jnr.)                                                               6
+ Denesh Ramdin    c   Chris  Gayle  b  Vernon Philander                                        2
* Ramnaresh Sarwan    not   out                                                                                          0
Extras  lb 3  w8                                                                                                                          11
Total   for  6  wkts   (20 overs)                                                                       139
Did not bat:  Sunil Narine, Veerasammy Permaul, Krishmar Santokie, Steven Jacobs.
Fall of wickets: 1-68, 2-91, 3-124, 4-134, 5-139, 6-139
Bowling : Dave Bernard  Jnr.  2-0-26-0 (2w), Vernon Philander  4-0-23-2  (1w), Nikita Miller  4-0-20-0, Muttiah Muralitharan  4-0-35-1 (1w), Chris Gayle 4-0-15-1, Andre Russell  2-0-17-0.
Jamaica Tallawahs  134-8 (20 overs)
* Chris Gayle         b   Krishmah  Santokie                                                                     43
Ahmed Shehzad   lbw  Mohammad Hafeez                                                                   3
Chadwick Walton  c  James Franklin  b  Steven Jacobs                                         36
Danza Hyatt  c  and  b  Veerasammy Permaul                                                             2
Jacques Rudolph    c  Christopher Barnwell   b  Sunil Narine                              18
Andre Russell  c  Sunil Narine  b  Krishmah Santokie                                            14
Vernon Philander  c  Martin Guptill b  Christopher Barnwell                                 1
+Carlton Baugh Jnr.  not out                                                                                              10
Dave Bernard Jnr. c  Ramnaresh Sarwan b Chjristopher Barnwell                    0
Nikita Miller   not  out                                                                                                            0
Extras      lb 3   w4                                                                                                                     7
Total 8 wkts  (20 overs)                                                                                                    134
Did not bat:  Muttiah Muralitharan.
Fall of wickets:  1-20, 2-66, 3-72, 4-98, 5-116, 6-123, 7-130, 8-131.
Bowling: Krishma Santokie   4-0-33-2, Mohammad Hafeez  4-0-35-1, , Sunil Narine  4-0-10-1, Steven Jacobs 4-0-24-1, Veerasammy Permaul 3-0-25-1 (2w), Christopher Barnwell  1-0-4-2.
Toss: Jamaica Tallawahs who decided to bowl:
Result: Guyana Amazon Warriors won by five runs.
Points: Guyana Amazon Warriors   2    Jamaica Tallawahs   0
Man of the match: Sunil Narine  ( Guyana Amazon Warriors)
Around the Web