After two months of inactivity, the local rugby season recommenced yesterday at the National Park despite the soggy state of the rugby field due to inclement weather.
Some members of the national rugby team along with national coach Theodore Henry were involved in scrimmages and simulation games in order to get their competitive juices flowing again ahead of the upcoming local league and overseas duties.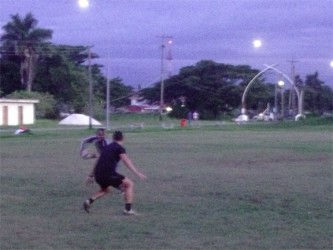 According to president of the Guyana Rugby and Football Union (GRFU), Peter Green "from now on it's rugby whether it's rain or shine".
Green told Stabroek Sport recently that "the aim of the game right now is to get the under 19s and the seniors playing as much 15s and 10s rugby as possible then eventually the Banks Sevens at least by October.
"The NACRA Sevens is coming up in November 9 and 10 in the Cayman Islands and we have to get back our title."
Around the Web