Guyana's first ever U18 World Champion powerlifter Gumendra Shewdas and lifters who won medals at July's Caribbean and PanAmerica powerlifting championships yesterday paid a courtesy call to president Donald Ramotar.
During the visit to the president at his Shiv Chanderpaul Drive office,
Ramotar congratulated the lifters of the Guyana Amateur Powerlifting Federation (GAPF) which included Randolph Morgan, Winston Stoby, John 'Big John' Edwards, Colin 'Mr Clean' Chesney, Kimberly Mars-Loncke, Paul Adams, Anis Ade Thomas and others and also encouraged them to continue to make the nation proud.
Afterwards the lifters were treated to lunch by Minster of Sport, Dr. Frank Anthony at the New Thriving Restaurant.
"We wanted to bring the main players in the powerlifting fraternity as we honour our most recent champion (Shewdas). It was indeed a pride and honour for the whole of Guyana and he is an example of what can be achieved if you persevere," said Dr. Anthony.
Shewdas's  (Guyana's Golden Boy) total lift of 475kg (1045lbs) in the 53kg class, trumped those of the powerhouses of powerlifting – USA's Dalton La Coe (452.5kg) and Russia's Alexei Kulakov (437.5kg) relegating them to the silver and bronze respectively at the World Sub Juniors and Juniors Men's Championships in Killeen, Texas last Monday.
After squatting (396lbs), bench pressing (198lbs)  and dead lifting (452lbs) his way to the top of the podium, the 5-foot, 3-inch, 115-pound gladiator from Line Path, Corriverton created history by becoming Guyana's youngest ever World Champion in any discipline.
"All our investment in powerlifting has paid off," Anthony added
"We can safely say the sport has really taken off in Guyana, we are very proud that you have competed in several international competitions and at all of those competitions you always returned with medals, I am very proud of the GAPF."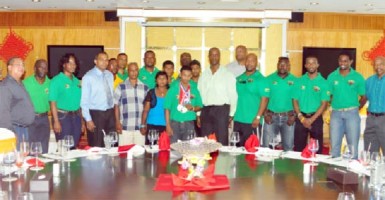 The minister also stated that the federation will have the full support of the ministry in their future endeavors.
"I understand that there are plans to host an international Championship in 2015 and I would like to state that the federation will have the full support of the Ministry of Sport to host those championships" declared Anthony.
"You will be required to have additional equipment and in this year's budget, we have allocated resources to procure those equipment ,we will be purchasing power lifting standardized weights and we will make them available to the federation in preparation for 2015".
President of the GAPF, Peter Green stated that yesterday's occasion was a very proud moment and also thanked the ministry and many stakeholders for making the sojourn of Shewdas and the power lifting team a reality.
Said Green:"This is a very proud moment for the federation which started from a humble beginning in 2008 the breakthroughs of' Big John' Edwards , Winston Stoby, Randolph Morgan and now  young Shewdas speaks volumes".
"It is a very proud moment, as president on behalf of the federation I speak for everyone when I say history has been created, I say thank you to Gumendra's coach (Egbert Jackson), his family and the Ministry of Sport for listening to my pleas, Gumendra has placed the country on the map on behalf of everyone I say to you, congratulations well done sir". Green also asked the minister to explore rewarding Shewdas similarly to Trinidad and Tobago's Jehue Gordon who won the gold medal in the 400m men's hurdles at the 2013 IAAF World Championships in Moscow, Russia, last month.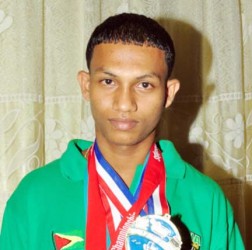 The 21-year old Gordon's reward package includes a monetary reward of TT$800,000 and a mid-sized house from the Housing Development Corporation a grant of an annual bursary from the University of the West Indies (UWI) on the recommendation of the Ministry of Tertiary Education and Skills training to cover the cost of housing, books, meals and transportation as well as free airline tickets as determined by the board of Caribbean Airlines.
When quizzed on whether Shewdas will be rewarded for his monumental and historical feat, Dr. Anthony said:"We do not have any immediate plans to do that at the moment, but we will consider it, we have heard what was suggested and we will see what we can do."
Brief congratulatory remarks were also made by Permanent Secretary of the Ministry, Alfred King.
Around the Web