Bronze medalist at last year's Central American and Caribbean (CAC) Bodybuilding and Fitness Championships, Kerwin Clarke is looking to emulate that achievement when he poses and flexes his chiseled physique at this year's edition later this month in the Dominican Republic.
Despite sustaining a right wrist injury last month, Clarke, the reigning Mr. Guyana, told Stabroek Sport yesterday that he is going through high intensity workouts to get his award winning physique into the best shape possible in order to return home with a gold medal.
"I will definitely be performing to the best of my ability to represent Guyana and make mycountry proud by bringing back the gold," Clarke told this publication.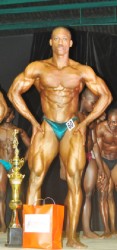 "Preparations for CAC have been a bit challenging, because I sustained an injury to my right wrist `during the process of my preparation. But I am training smart and I am observing my body while I take it through the rigorous training in order to put myself in the driving seat to grab a gold medal in the Dominican Republic."
The 25-year-old, who trains five days a week at Buddy's Gym, mentioned that he is feverishly working on his flaws.
According to the muscleman his workout were centred around widening his barn door back and adding thickness and density to his calves while also improving the remainder his sculpted physique.
The 2011 overall Novices Champion and last year Hugh Ross Classic (HRC) winner also disclosed that he will be competing in the welterweight division at the championships.
Clarke's compatriots, former Mr. Guyana and 2012 CAC gold medalist, Devon Davis, Alisha Fortune (reigning Ms. Guyana and former CAC bronze medalist) and Dellon Harlequin will also compete at the 41st annual championships.
Harlequin is scheduled to compete in the light heavyweight division while Davis will battle flyweights.
Fortune will compete in the Women's Open category.
Mervin 'Spongy' Moses who coaches Clarke will also travel to the four-day championships in Santo Domingo which commences on September 19 as will president of the Guyana Amateur Bodybuilding and Fitness Federation (GABBFF), Keavon Bess.
The bodybuilders were recently selected by the GABBFF based on their ability and probability of winning medals in their respective categories.
Around the Web