A small but excited crowd was on hand at the South Dakota Circuit yesterday to witness local ace driver Kevin Jeffrey power his Mitsubishi Evolution VIII to two victories in the Group 4 category of the second GMR&SC National Race of Champions.
The event, which was an appetizer for Guyana's leg of the CMRC in November, saw Jeffrey and Andrew King demonstrating sublime driving skills and tactics which left the fans wanting more.
Jeffrey, however, won two races to be the driver with the most victories on the day.
The lap record-holder for the circuit started at pole position after clocking 34.6 in the time trials ahead of Paul Vieira (34.7).  With Jeffrey entering the first corner in control, King, who was trailing had a mountain to climb if he was to dethrone yesterday's champion driver.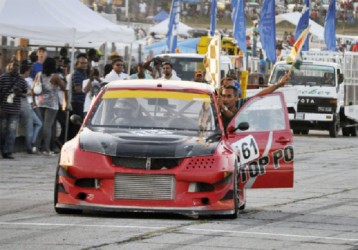 It was never to be as Jeffrey made it a post-to-post affair with a fast lap time to take the checkered flag by half a car's length ahead of King with Paul Vieira completing the top three.
Having seen Jeffrey's tactics in the opening event, King approached the start of the second race more aggressively. However, it was just a carbon copy of the initial race as Jeffrey took his second checkered flag ahead of King and Vieira again.
In the final event however, King turned the tables on Jeffrey and piloted his Mazda RX-7 to victory.
King jumped from the post and never relinquished his lead. But with three laps to go, the fans were treated to some excitement as Jeffrey applied the pressure on King but the experienced driver kept his composure to reign over his arch rival. "The car and the engine performed well today" said Jeffrey.
"Two wins and a second I will take that any day of the week". Speaking of November, Jeffrey stated that he will up the ante adding that he is looking forward to defending home turf with King and champion driver Mark Vieira who did not compete yesterday.
Other overall winners yesterday were Joel Neblett (SuperBike) and Hemant Boodram (125cc).
The results for the other category winners (Group 1, Group 2A and Group 2B) were still unknown up to press time. The event was organized by the GMR&SC after Barbados' second leg of the CMRC was cancelled.
Some major sponsors included GT&T, Banks DIH Limited, Beharry Automotive Limited, Rent a Tent and The Trophy Stall.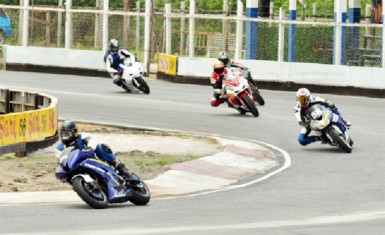 Around the Web