Junior Sportsman of the Year, Paul DeNobrega has a knack for winning big money races.
Yesterday, the talented 19-year-old wheelsman prevailed over a star-studded field and edged Paul Choo Wee-Nam and Robin Persaud in a three-man sprint finish to cart off the winner's trophy and an ounce of raw gold in the second annual Kadir Mohamed Memorial Ounce of Gold road race.
The gold, which is worth approximately $225,000, is the highest first place prize for
a one day event in local cycling history.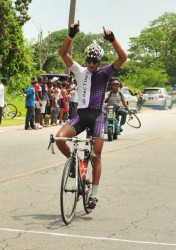 Last year's gold medalist at the Junior Caribbean Cycling Championships stopped the clock in three hours, 12 minutes and 39 seconds and also earned three sprint prizes in the grueling 80-mile (133km) trek which rolled off at Homestretch Avenue, proceeded to Dora on the Linden Highway and returned to the point of origin for the finish.
Roraima Bikers Club, Marlon 'Fishy' Williams, Albert Philander, Orville Hinds, Warren '40' McKay, Alonzo Ambrose, Chris Holder and Eric Sankar completed the top 10 paid positions.
"I felt strong today going up," yesterday's winner told media operatives during a post-race interview. "I was focusing on this race for the past week and the next one is the Digicel race which I am the defending champion, so and I'm looking forward to that."
DeNobrega, who won last year's Digicel Breast Cancer Awareness and pocketed $100,000 in the process added:"I just need to continue to stay focused on the saddle for the Digicel race on the 27th (October) and the five-stage road race next month."
The highly competitive event saw the cream of Guyana's cyclists going at it from the starter's pistol.
There were a litany of unsuccessful attacks involving the inform Alanzo Greaves, Godfrey Pollydore, McKay and others but the change of gears at Providence by DeNobrega, Persaud and Choo Wee Nam worked in the victor's favour.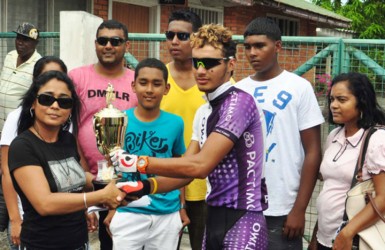 Persaud rose from his saddle at Princess Hotel but he was pursued by the other two podium finishers.
The three cyclists worked in tandem and opened up a sizeable lead in the blink of an eye.
DeNobrega, Persaud and Choo Wee Nam were never caught by the peloton and with 100m before the finish were still together. Soon after, however, team work was thrown out the window and DeNobrega pounced and romped home to victory.
Persaud, whose sprinting ability is superior to Choo Wee Nam's had to settle for the bronze after his boot became unhinged from the pedal.
This year's event which was sponsored by Kadir Mohamed's family, attracted a record 48 cyclists including female champion, Naomi Singh.
Other categorical winners yesterday were Junior Niles (veteran under 45), Ian Jackson (veteran over 45) and Ambrose (junior).
Around the Web