MIAMI, CMC- A keynote speech from a revolutionary who served time in an isolation cell at the height of South Africa's apartheid era will kick-off a landmark summit by CONCACAF in the Cayman Islands next week.
Tokyo Sexwale, the former political prisoner in South Africa, will address the summit to be attended by key figures in football, business and government from across North and Central America and the Caribbean and beyond.
Sexwale, who was held along with Nelson Mandela and other leading figures in the struggle against the country's apartheid regime, will address the theme of the event – "Transformation through Partnership".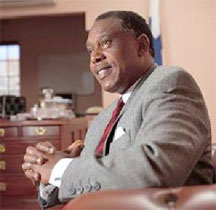 Sexwale and other prisoners kept their spirits up by playing football inside the notorious jail and even formed their own football association, which has since been given "honorary membership" of FIFA.
The summit participants will be able to gain insight into the lessons that Sexwale can offer from his extraordinary life highlighted by his roles as a revolutionary, a political prisoner, a government minister and a successful businessman.
The summit aims to enhance the partnership between governments and football federations while expanding sports tourism.
Other high profile participants attending include  Jamaica's  Prime Minister Portia Simpson-Miller, Nic Coward, General Secretary of the English Premier League and Don Garber, Commissioner of Major League Soccer.
Around the Web