– Sukhram tipped to retain female title
United States of America-based golfer Jaipaul Suknanan yesterday turned in a superb performance to grab a share of the lead on the opening day of the Digicel-sponsored Guyana Open golf tournament held at the Lusignan Golf Course.
Suknanan, competing in the men's A Flight 0-9 handicap ended with a gross 75 to share the lead with defending champion Avinash Persaud a four-time winner of the event.
But the battle for golf's Holy Grail is not a two person race as seasoned campaigner Mike Mangal is lurking in second place after shooting a gross 76 yesterday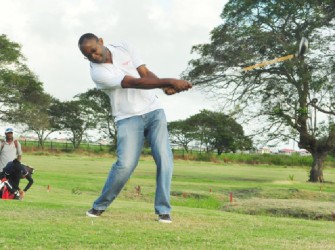 to be one shot behind the leaders.
Another veteran player Roy Cummings with a gross of 81 is the leader in the B Flight (10-18 handicap) category.
In second place is L. Ramsundar with a gross of 82 while Ayube Ally is the leader in the C Flight (19-28 handicap) with gross 89 with K.M. Chung second with a 91 gross.
The women's category is being led by defending champion Christine Sukhram,  who  ended yesterday with a gross of 75  and a net of 65 competing in the Ladies Flight (0-36 handicap).
Newcomer Shanella Webster is in second position with net 70 and gross 103 while Joann Deo and Juliet Prince occupy the next two places.
Yesterday Chief Executive Officer of Digicel (Guyana), Gregory Dean, in brief remarks said his company was pleased to partner with the Lusignan Golf Club in the staging of this year's competition.
"We've had a long association with the Lusignan Golf Club, but this is the first time we're sponsoring the Guyana Open and we hope it would be a long and successful marriage," Dean said during brief remarks before tee off.
"It is good to see all the players out this early and I would like to thank the Lusignan Golf Club for  inviting us to be a part of this tournament," Dean said before adding that he wished all the players the very best in the efforts."
Around the Web