The selection committee of the Berbice Cricket Board (BCB) has called up 32 cricketers for a three-day trial match which will be used to identify the Berbice squad for the upcoming senior four-day Inter-County Competition scheduled to start later this month.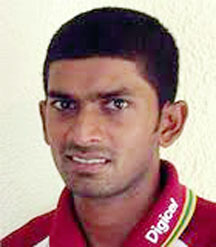 The match which has been sponsored by the Universal DVD Club of New Amsterdam and Canje, was scheduled to bowl off yesterday and will end tomorrow at the Albion Community Development Centre ground.
The teams will be captained by two former West Indies cricketers, opening batsman Sewnarine Chattergoon and left-arm spinner Devendra Bishoo.
Sewnarine Chattergoon (Captain)              Devendra Bishoo (Captain)
Anthony D' Andrade                                     Shimron Hetmyer
Devon Clements                                             Kandasammy Surujnarine
Seon Hetmyer                                                Assad Fudadin
Jonathan Foo                                                  Eugene LaFleur
Dominique Rikhi                                             Rajiv Ivan
Raphael Estriado                                            Sharaz Ramcharran
Kevin Ramdeen                                              Artley Bailey
Jason Sinclair                                                  Joemal LaFleur
Eon Hooper                                                     Anthony Bramble
Shawn Perreira                                               Krishnadat Ramoo
Gudakesh Motie                                              Waqar Hassan
Brendon Bess                                                  Keyron Fraser
Ramario Shepherd                                          Clinton Pestano
Roun Johnson                                                  Keon Joseph
Deveshwari Prashad                                      Nial Smith
Around the Web