In a bold new initiative awards in the form of trophies and vouchers will be presented to outstanding athletes at this year's National Schools' Track and Field, Cycling and Swimming Championships set for November 19-22.
This is according to Compton Babb, Public Relations Manager of Giftland OfficeMax.
Babb also revealed that the company will be contributing a significant amount of stationery supplies to the Secretariat of the National Schools Championships to help them to be able to administrate the event effectively.
"As always, the number one department store in Guyana has contributed a handsome amount of stationery supplies for the smooth flow of the administration process of the championships. We welcome the 53rd Mega Sport Event with open arms providing innovative ideas for all athletes and participants," Babb said at the presentation on Thursday.
In addition the company will select two athletes to join their Giftland Dynamic Ambassador Team.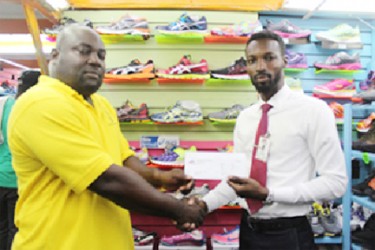 Giftland OfficeMax is highly regarded as one of the leading department stores in Guyana and Babb said he was grateful to Marketing and Public Relations Officer of the national schools championships Edison Jefford for facilitating their involvement.
"We are urging all athletes to put their best foot forward in becoming the champ.
"The outstanding male and female athlete will receive a personalised discount card, three branded outfits with footwear and accessories, assistance with travel costs for overseas competitions and three back-to-school package supplies for one year," Babb revealed.
Competitions Director of the National Schools Championships, Ceon Bristol, thanked Giftland for its support, stating that the company has always been innovative and supportive with sports and their contribution is just another example of that vision.
Bristol informed that the stationery came at the opportune time when they are busy compiling the entries from the various districts ahead of the nationwide competition that usually attracts 1600-plus athletes from 16 Districts. Bristol said the work to administer the meet is always challenging and it is refreshing to know that companies like Giftland are in their corner.
Around the Web