Last Sunday, conditions were overcast during the Caribbean Motor Racing Championships (CMRC) at the South Dakota Circuit but the action was steaming like the engines of the Caribbean's fastest machines.
The second and final leg of the annual Seaboard Marine championships which saw Guyana driving off with the country award was deemed a roaring success.
From the attendance which was in the neighbourhood of 18,000, to the 24 adrenaline-rushing races which were incident free, the day's race meet was arguably one of the best ever.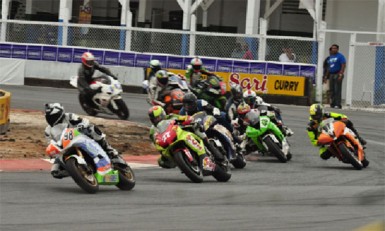 According to Clerk of the Course, John Chin "It was successful, all the events were able to run off without incidents, despite the threat of rain and some delays due to the rainfall we were able to complete the programme incident free."
Chin who dubbed the biggest event on the local circuit racing calendar as "one of the best CMRC ever" revealed that the executives of the Guyana Motor Racing and Sports Club (GMR&SC) will be meeting soon to review the day's events and discuss ways to better Sunday's meet next November.
On Sunday, the local speed demons grabbed the country award ahead of Jamaica and Barbados after ace drivers Kevin Jeffrey and the Vieiras, Mark and Paul starred at the circuit and enabled Guyana to regain the coveted CMRC country trophy.
Jeffrey swept the first two events in the CMRC Group 4 category while Mark Vieira piloted his Mazda RX 8 to pole position in the final event to help Guyana finish as champions on 508 points.
Jamaica finished on 392 points, while Barbados ended the championships on 343 points.
Chin also thanked the fans, the volunteers and the sponsors for making the event a grand slam.
Majors sponsors for Sunday's meet included: Banks DIH Limited, GT&T, Rent-A-Tent, Ministry of Tourism, Industry and Commerce, CCS, Prem's Electrical, King's Jewellery World, Valvoline, Nabi, Marsha Mining, John Fernandes, E.C.Vieira Investments, Mohamed Roshandin, NTN, New Thriving, Versus Auto Sales, TVG, Bounty Farm, Castrol, Hilton Quan, Trophy Stall, Readymix Concrete Limited, Extreme Motorsports, GTM, Ricks and Sari, Friendship Oxygen Limited, Automative Arts, Hand-in-Hand Insurance, Beharry Group of Companies, Kaylees Service Station, Fly Jamaica, American Stores and Jiffi Lubes.
Around the Web