Coming as it has on the heels of a major national agro-processing forum, the current glut of fresh fruit and vegetables on the local market provides a sobering reminder of just how far behind we are in our quest to create a viable industry out of adding value to agricultural produce.
This week, tomatoes were trading in municipal markets and on the streets at prices as low as $40 per pound. At those prices, some are bound to end up rotting and being disposed of. The simple truth is that whether it be tomato or any other fruit or vegetable, in bountiful times supply invariably exceeds demand while our limited capacity to add value to what we grow means that much of the produce goes to waste,
It is a measure of how ill-planned our agricultural sector has been over the years. The vast majority of what we grow is either exported in its raw state or else, very little value is added. Of what is left some is eaten and much of it thrown away. Agro-processing is still, in large measure, a fledgling industry and it is at times like these that we become acutely aware of the sloth of the sector's growth.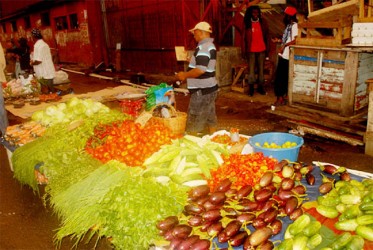 The evidence in all of the city's municipal markets this week suggests that shoppers could be in for a spell of good prices. The question is: what happens when the market simply cannot take any more fresh fruit and raw vegetables.
With tomatoes on our mind, we visited both Stabroek and Bourda markets on Wednesday. The sun had not yet risen when we got to the Farmers Market at Stabroek. The sellers had come from as far as Parika and from other intervening villages west of the Demerara River. They had been there from late the previous evening waiting for the retailers to arrive.
Early in the morning tomatoes were being sold at $50 and $60 per pound. Stacked together in mini mountains, red and firm the tomatoes symbolized the strength of the country's agricultural sector. What they also symbolized was our lack of capacity either to consume what we produce or to gainfully dispose of what is left.
Other vegetables were making their own statements on Wednesday morning at the Farmers Market. Pepper was being sold at $160 per pound. And sizeable pumpkins were being traded at $200 each. For another $200 you could add several bundles of bora or half a dozen boulangers to your morning's shopping. Celery, not customarily a cheap item, was being traded at four bundles for $100. For another $100 you could take your pick from a pineapple, a pound of cabbage or two parcels of shallots. Okra prices had gone as low as $60 per pound.
Most ground provisions, meanwhile, were being retailed at $50 per pound. It was pretty much the same at Bourda Market.
Nothing, however, could take our minds off the dichotomy between the vast quantities of food, particularly tomatoes, on the local market and our inability to dispose of the food in a worthwhile manner. At the recent agro-processing forum there had been talk about cruder forms of preserving foods and even importing a modest factory to handle a range of processing. Someone had said too that an agro-processing sector necessitated some measure of coordination between the farmers and the processors. Little, however, was said about preserving fruit and vegetables in times of glut. That was how homemade jams and jellies used to appear on breakfast tables many years ago, Very little was allowed to spoil.
Stabroek Business spoke with a woman from the Berbice River who said that she had been taught to make both tomato sauce and tomato paste but that containers and markets would be difficult to find. The conversation was taking place close to a vendor's stall on Bourda Green. She was occasionally bathing her mound of tomatoes in an effort to spare it the worst effects of the sun. Occasionally, she would remove a few which she deemed not fit for sale.
One might have thought that the protracted spell of good weather might be pleasing to both the farmers and the vendors. That does not appear to be the case. Good weather brings bountiful yield and bountiful yield suppresses prices.
On Wednesday some retailers were earnestly praying for the glut to pass as the markets buzzed with opinions on the bounty. 'Sugar' Ragobeer, a highly successful Hope Estate farmer who employs both the shade house and conventional methods told Stabroek Business that the current phenomenon was not unusual. Sometimes, he says, farmers enjoy these protracted spells of good weather and when this combines with the kind of support that has been forthcoming from the Ministry of Agriculture – assistance with supplies of seeds, manure, insecticide and even, in the case of bigger farmers, excavators to help with drainage and irrigation – "sometimes everything can come together." He says that currently, several farmers are harvesting simultaneously. In Sugar's case planting in the shade allows him the luxury of staggering his harvesting.
Meanwhile, Quason, a West Coast Berbice vendor was one of the many sellers in Georgetown fretting over the likelihood of high volumes of spoilage this week. As if to add insult to injury he was not anticipating any really significant profits given the fierce competition resulting from the glut.
Deoram, a farmer from Parika, was also pondering a sizeable hill of tomatoes. To him, too, the bounty was not unusual and he understands the risks associated with seasons like this. He had bought his tomatoes at $40 per pound and was hoping for a modest profit, retailing at $60. Everywhere, it seemed that vendors were concerned that the competition arising out of the glut had slowed sales to a crawl.
We were unable to engage the Guyana Marketing Corporation (GMC) to secure a reaction to the glut of vegetables on the local market. The GMC supports agro-processing by providing a show window and a modest marketing outlet for value-added fruit and vegetables. The seasonal bounty had provided us with a timely reminder of the underdevelopment of the sector and of what Ram Prashad, the owner of Prestige Manufacturing and Bottling had told us a few weeks ago, about the need for government to invest more aggressively in the infrastructure necessary to grow the sector.
Around the Web