Samuel Allen, the 18-year-old accused of killing Brazilian miner Joao De Souza during a robbery, yesterday made an appearance before the Georgetown Magistrates' Courts.
Allen, of Four Miles, Arakaka, was not required to plead to the charge.
According to Prosecutor Michael Grant, De Souza, 57, had been walking along a passageway heading back to his mining camp at Five Miles Arakaka when the accused went behind him with the intention of robbing him. Grant added that the defendant took a crush hammer and dealt the miner a blow to the head,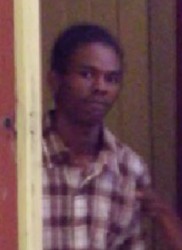 causing the injured man to fall to the ground. De Souza was then searched for possessions but none were recovered. Allen then made good his escape.
De Souza was picked up and taken to the Arakaka Health Centre and later succumbed to his injuries while awaiting transportation from the Matthew's Ridge Airstrip to the Georgetown Public Hospital (GPH).
In an interview with Stabroek News, Doris Williams, the dead miner's wife, explained that the attack occurred while her husband had been returning to the mining camp with her 14-year-old nephew. The pair, she said, had left the camp to pay a visit to a nearby shop. The woman added that she had only became aware that something was amiss when her nephew came running back to the camp, screaming.
The nephew had revealed that he and De Souza had been followed by a man the moment they left the shop. About two minutes from the camp, the boy felt an object hit his foot and, upon shining his flashlight, he saw a man with his head bent. De Souza was attacked shortly afterwards and, scared, the teen ran to the camp for help.
According to Prosecutor Grant, Allen was subsequently captured and had admitted to the crime.
But during yesterday's proceedings, Allen's lawyer Mark Thompson explained to the court that his client had signed a document but had not been aware of what it was due to the fact that the youngster could not read or write.
Allen was remanded to prison by Chief Magistrate Priya Sewnarine-Beharry until May 6, when he will make his next appearance at the Matthew's Ridge Magistrate's Court.
Around the Web