The Promenade Gardens will come alive today as the Inner Wheel Club hosts its annual Hat Show and Garden party and this year male contestants have been given a special invitation and encouragement to participate.
According to the club, the hat competition is open to children and adults in three categories: elegant, topical and original.
In the past, hats were displayed to raise awareness about topics such as inadequate housing by volunteers of Habitat for Humanity and also, one regular contestant when she was in her 80s depicted the deplorable state of Georgetown due to the garbage.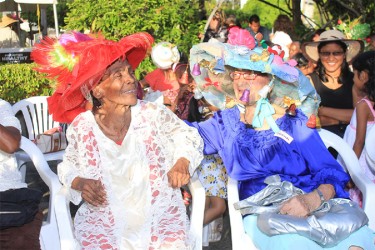 Registration for the competition is done on the day itself and contestants are required to arrive early to register from 2.30 pm. Registration closes at 3.30 pm.
Patrons can also look forward having a delicious tea served at the tea stall and as usual there will be various other stalls, including a books, games and sweet and savory providing tasty homemade snacks, pastries and cakes. The Police Band will be in attendance.
The Annual Hat Show and Garden Party is the Club's largest fundraiser and it ends at 6 pm. Entrance tickets are $200 and children under 8 years free. Tea is also available at a contribution of $1,500, which includes the entrance fee.
The Inner Wheel Club of Georgetown is a charitable organisation that raises funds in order to make an impact in the lives of the less fortunate through scholarships for young adults seeking training in the fields of education and medicine; participating in community development activities that benefit children and the elderly; as well as by spreading cheer on festive occasions.
Around the Web