Justice Diana Insanally yesterday ordered that government's Town Clerk appointee Carol Sooba show cause why she should not be removed from the post.
The order is based on an application to the High Court by City Hall spokesman Royston King for a rule nisi to be issued to Sooba and Local Government Minister Norman Whittaker to show cause why information in the nature of a quo warranto (a writ formerly requiring a person to show by what authority he/she exercises a public office) should not be exhibited against Sooba.
The matter was held in chambers but King's attorney Nigel Hughes told Stabroek News shortly after the hearing had ended that an order for Sooba to show cause as to why she should not be removed from the position of Town Clerk was granted by Justice Insanally. Sooba is expected to appear in court with her lawyers on June 2 in relation to this matter.
The granting of the order came as arguments continued over the ruling last month by acting Chief Justice Ian Chang on the legality of former Local Government Minister Ganga Persaud's appointment of Sooba as well as her own petition to the court to challenge City Council's efforts to force her out.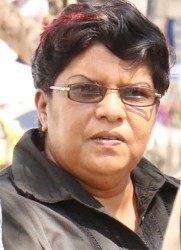 In the Court of Appeal yesterday morning, judges heard arguments by Attorney General Anil Nandlall, attorney Roysdale Forde, who is presenting Sooba, and Hughes.
Stabroek News was later told that during the hearing Forde asked for a stay of execution of the Chief Justice's order quashing Sooba's appointment as Town Clerk. Forde said that the former minister had legal authority to appoint Sooba and therefore she was rightfully selected and he noted that he was forced to file a quo warranto on her behalf last Thursday because the Mayor and City Council were attempting to appoint King as the new Town Clerk.
This newspaper understands too that Hughes in his arguments said that if even if Sooba was not granted a stay of execution, she will suffer no consequences because she does not occupy the office of Town Clerk.
Nandlall said the judges reserved their ruling and will send out a notice when it is ready.
Justice Chang last month found that Persaud's decision to appoint Sooba as the Town was illegal.
"It is the finding of the court that the Minister acted ultra vires the provisions of the Municipal and District Councils Act, Chapter 28:01 and his decision to appoint Carol Sooba as Town Clerk must be quashed," Justice Chang told the court.
However, he added that his decision does not prevent Sooba from continuing to perform the functions of Town Clerk as the de facto Town Clerk. It needed a direct challenge by quo warranto to the authority of Sooba to bring her de facto to an end, Justice Chang said. King has since initiated these proceedings.
Meanwhile, during a hearing on Sooba's application to block her removal by the Mayor and City Council, Hughes asked Justice Chang if he would recuse himself from the matter, while suggesting that there had been contradictions in his judgment on the matter. This charge followed the decision by the Chief Justice last week to grant Sooba eight temporary orders, including an order quashing the council decision to remove her as Town Clerk, an order quashing the decision to send her on administrative leave, orders quashing the decision to appoint, install and swear-in King, unless cause is shown why the decisions are not unlawful. One of the orders restrained King from seizing the office of the Town Clerk, from entering or discharging any powers or duties of the office.
However, Justice Chang informed Hughes that he had no intention of recusing himself at that point in time and Hughes was subsequently given six days to put his arguments in writing. It was agreed that within three days following the handing in of the affidavit, Justice Chang will make a decision on Hughes suggestion.
This matter continues on June 5 at the High Court.
Around the Web