After being forcibly denied entry into a city court, farmer Mark Jacobs yesterday found himself arrested for allegedly assaulting a police officer.
Jacobs, a far-mer and writer, was eventually released without charge after being taken to the Brickdam Police Station by four armed police officers.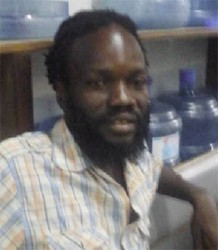 Jacobs, who also contributes to the weekly Stabroek Business supplement, went to court to support a friend who currently has an ongoing case. He explained that when he arrived at Georgetown Magistrates' Court Ten the door was shut and he attempted to enter the courtroom but was abruptly pushed away by the police officer manning the door.
Jacobs said the officer never said a single word to him. "The man said nothing to me. I thought his behaviour was improper but I assumed that something was happening in the court," he said.
He added that he subsequently decided to take a peek inside the court from a side window before returning to stand in front of the court door. Shortly after, Jacobs said, a woman exited the courtroom and he tried again to get in, telling the police officer that he was there to observe a matter.
"The officer pushed me again and did not say a word to me and closed the door. He pushed me pretty hard this time, so I rapped on the door and he opened it," Jacobs said.
He said he explained to the officer once again that he was at court to observe a matter, while noting that he was at court on Wednesday for the same matter. However, he said the officer pushed him out of the doorway and continued to push him towards the courtyard fence.
"At this stage, I felt like he wanted a confrontation and at this point he finally said something to me but I can't recall what he said. But I told him not to touch me [and] shortly after another police officer, a man who appeared to be a neighbourhood police and another man dressed in plain clothes, came and arrested me," he explained.
Jacobs said the men grabbed his clothes and pulled and tugged at him before taking him inside the police outpost at the courts complex and placed him on a bench.
He said the men then spoke to whom he perceived to be the officer-in-charge at the police outpost and the man then came to him and informed him that he was arrested and will be charged for resisting arrest and assaulting a peace officer.
Sometime later, Jacobs said four armed police officers were called in to take him to the Brickdam Police Station. After a brief discussion about whether he should be shackled, the officers decided not to shackle him.
However, Jacobs said when they arrived at the police station, none of the officers who brought him to the station could say to an officer at the station why he was arrested. He was subsequently told that he was free to go after he signed a recognisance form.
Jacobs, who wears dreadlocks, said he believes he is being targeted because of stereotyping. The man said back in 2010, he had a similar experience when he was arrested and went through a similar series of events at the hands of the police before being set free the same day.
Around the Web