An Industry grocer yesterday managed to save the life of his young baby after a fire, believed to be of electrical origin, engulfed the top flat of his home where the child was asleep.
Yashpaul Sewnarine, of 97 Fifth Street, Industry, East Coast Demerara, and owner of the Market Place, a grocery shop he operated from the bottom flat of his home, said he and his wife were alerted to the fire when they began to detect the scent of something being burnt at around 11:45am yesterday.
At the time, they were in the bottom flat of the two-storey, three-bedroom house. Sewnarine said he made checks and by the time he arrived at the foot of their interior stairway, he saw the entire upstairs of the house engulfed in smoke.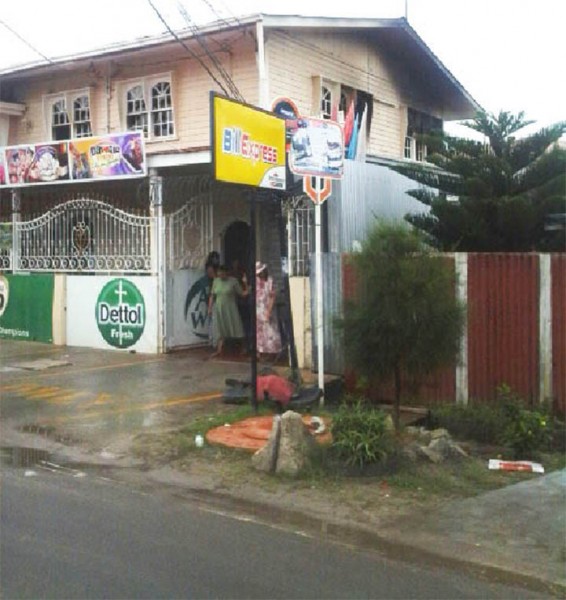 He added that his wife then shouted to him that their baby, who is just over a year old, was asleep in the upper flat of the building.
The man said he then ventured upstairs and grabbed the baby. He suffered minor burns to his face but managed to get the baby out unharmed.
Sewnarine estimated his losses in the fire to be in the millions. He said because the place was dark, he did not manage to save any of their possessions from the inside of the top flat.
Sewnarine said while the fire barely got to the bottom flat of the house, water damage from the efforts of firefighters also resulted in losses.
He said that neighbours attempted to manually put the fire out until the Guyana Fire Service arrived. The fire service was quick to respond to the fire, he noted.
He added that he believes the fire to be electrical. He noted that there are only bedrooms in the top flat of the house and the family does not use candles or mosquito coils.
Sewnarine resided at the house with his wife and four children and he said he and his family will be staying with family members until their home is restored.
Efforts to contact Fire Chief Marlon Gentle to obtain more information on the cause of the fire were unsuccessful.
Around the Web