A driver is now critical after crashing into a minibus early yesterday morning during the transport of four prisoners.
Anthony Taylor, 37, of Lot 89 First Street, South Herstelling, East Bank Demerara, who is now critical, was reported to have been behind the wheel of a Toyota Carina bearing registration number PPP 6731, which crashed into minibus BLL 6398, driven by Deonand Mathura, 33, of Lot 2 First Street, Windsor Forest.
Taylor was at the time transporting four prisoners from the Camp Street Prison when the accident occurred at approximately 6:05am along the Ruimzigt, West Coast Demerara Public Road. He was said to be unconscious after the accident and he and the four prisoners as well as the driver of the bus were taken to the West Demerara Regional Hospital in a pick-up truck by a public-spirited citizen.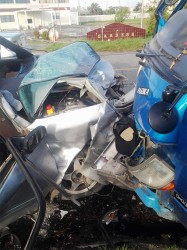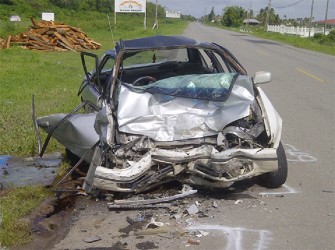 Director of Prisons Welton Trotz was unavailable when Stabroek News tried to reach him for comment.
Recounting the accident, Mathura told Stabroek News that he was driving to the gas station when he noticed the other car approximately 100 metres in front of him. He said that the driver was swaying across the road at a fast pace. This, he said, prompted him to stop at the side of the road, in front of Caricom General Insurance Company, shortly after which the car slammed into his bus. Feeling dizzy and in immense pain, Mathura said he climbed out of the passenger side door and stood looking at the wreck. A passer-by, who witnessed the accident, took everyone to the regional hospital with the help of others who were present, Mathura recounted.
After receiving treatment for bruises and pain, Mathura said he was escorted home by 2 police officers who wanted to inspect the bus, which was towed to his residence by a tractor. He went on to say that the officers acknowledged that the other vehicle was in the wrong and advised him to visit the Leonora Police Station on Friday morning.
The prisoners were transferred from the West Demerara Hospital to the Georgetown Public Hospital at approximately 2pm, while Taylor, who was critical, remained at the regional hospital.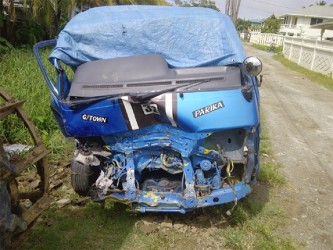 Around the Web