An Annandale security guard riding home from work to help his wife prepare for father's day festivities died after being struck by a car early yesterday, a year after his brother died in a similar hit-and-run incident.
Dead is Mustak Alli, 51, a security guard of 179 Rabindra Street, Annandale. He was coming home to help his wife prepare for father's day festivities when he was struck down by the vehicle.
His body was discovered on the Courbane Park, East Coast Demerara roadway at approximately 5:30 am yesterday, police said. In a statement, the police said that a man has been arrested and an abandoned vehicle seized as investigations continue. Subsequently, relatives told Stabroek News that two persons are in custody.
Alli's wife told Stabroek News that her husband's body was mangled and her sons did not want her to view the body. She said that her husband was always pleasant and recently started working as a guard after a few years of not working. She recounted that Alli would ride his bicycle to and from work, and yesterday he was coming home earlier than usual to help her. He wanted to ensure a big father's day festivities with all his family and children around him, she said, becoming emotional as she expressed sadness that her husband would not be coming home.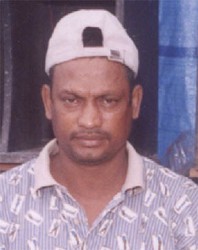 "I last spoke to my husband at four o'clock yesterday (Saturday) and that was it," the grieving woman said, adding that she is in disbelief that she would never speak to him again. She recalled that Alli was enjoying his new job after he was forced to stop cutting cane a few years ago due to chronic pain. Despite this, he was always busy, she said.
The woman said that police were tipped off about the car that was responsible for the accident after the vehicle's owner tried to assess the damage at a mechanic shop.
She said that the police have two persons in custody: the owner of the vehicle and his son and they are from the Lusignan area.
The woman stated that she had been happily married to her husband for over 30 years and they have four children including a seven-year-old adopted son. "He does wait for his papa to come home before he goes to school. Everyday…his papa would bring him a mango or give him $40 to go to school any lil thing," she said of the little boy.
Just over a year ago, Alli's brother Altaf died in similar circumstances and relatives gathered at the family home yesterday were in shock that another family member died in such a manner. "I behave bad when I see he, my sons didn't want to me to go and see he suh," his wife recounted.
Alli's brother told Stabroek News that was disappointed in police investigations regarding road fatalities and after seeing Altaf succumb on April 2, 2013 and no arrests made, he feared that Alli's death would be in vain.
Last year Altaf Alli, a fisherman, was stuck down along the Lusignan public road in the early evening and was taken to the Georgetown Public Hospital for treatment.
The family had reported him missing and enquired with the GPH, but were told that he was not at the hospital. The following Friday, however it was discovered that his body was at the GPH mortuary.
The man's brother stated that the roadways are not safe and Minister of Home Affairs Clement Rohee needs to do something to address the issue. He told Stabroek News that both his brothers were riding their bicycles and were just knocked down and left without remorse and the persons responsible should not be allowed to walk away as if nothing happened as lives were taken.
Alli's body was taken to the Lyken Funeral Parlor and an autopsy is scheduled for today. Relatives said that they are awaiting the results of the autopsy before making funeral arrangements.
On Friday, A Partnership for National Unity once again called for the removal of Rohee as Home Affairs minister saying that lax law-enforcement and dangerous driving habits were the biggest contributing factors to road fatalities stemming from the lack of effective ministerial direction.
Around the Web