A 55-year-old pedal cyclist died at the Georgetown Public Hospital on Saturday afternoon after he was struck down by a motor lorry while attempting to cross the De Willem Public Road, West Coast Demerara.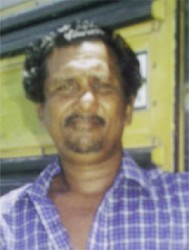 Dead is Imran Mohammed called 'Bruck up' or 'Mohammed' of 16 De Willem North, West Coast Demerara.
In a release, the police said that they are conducting investigations into the accident and that the driver of the motor vehicle is in police custody assisting with investigations.
According to the police, investigations have so far revealed that Mohamed attempted to cross the roadway on his bicycle and was struck down by a motor lorry.
At his home, his sister, Surujdai Ramsaroop and other relatives had gathered to mourn the loss of a "loving, kind and helpful man."
Ramsaroop said that her brother would normally go out in the afternoon for a stroll and that he was returning home shortly after 3pm when he was struck down on the public road.
Mohammed leaves to mourn his siblings and other relatives.
Around the Web