Two weeks after a woman's decomposed body was discovered in a clump of bushes at Turkeyen, East Coast Demerara, samples are yet to be sent abroad to determine whether she was missing St. Stanislaus teacher Nyozi Goodman.
This is according to Crime Chief Leslie James, who told Stabroek News that though he was unable to say just when these samples will be sent, it would be "very soon."
"In terms of body samples, those were taken and of course preserved," James said. "Samples were taken from both of the woman's [Goodman] parents. We are going to deal with that very soon. We've already engaged an institution…with the view of having those samples escorted from Guyana," he further explained.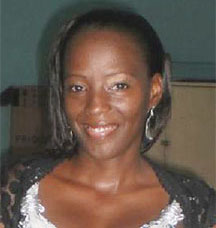 Meanwhile, the missing woman's family is trying to remain patient. "Sometimes you feel like you want to abuse the police for their lackadaisical work but we just have to let them do their work," Goodman's mother, Carol Greene, said yesterday. "For now, we're just waiting. We hope that we don't have to wait for the next 10 to 15 years," she added.
Goodman, 34, has been missing since the night of July 6, when she attended a basketball game with a few of her students. According to the youth, the woman told them to leave without her as she had made other transportation arrangements.
However, Goodman failed to arrive home.
Almost three weeks after her disappearance, the badly decomposed body was discovered and immediately led to speculation that it was that of Goodman. Two post-mortem examinations conducted by government pathologist Nehaul Singh revealed that the unidentified woman had been stabbed several times to the abdomen.
An initial on-site autopsy had been conducted due to the severe deterioration of the dead woman's body.
Two men had been held in connection to Goodman's disappearance. However, they were both subsequently released.
Around the Web