A Nigerian national, charged with remaining in Guyana illegally and forging an immigration stamp to show he was granted an extension, was remanded to prison yesterday at a city court.
Metu Francis Ehikaodi, 32, of Nigeria, who resides locally at Lot 28 Paradise Village, East Coast Demerara, denied that he overstayed his time in Guyana during the period April 11 to August 5. He also denied that he, on August 5, at Springlands, Corentyne, presented a passport bearing a false immigration stamp. Additionally, he denied that he conspired with persons during the period April 11 to August 5, and forged an immigration stamp. The charges were read to him by Chief Magistrate Priya Sewnarine-Beharry.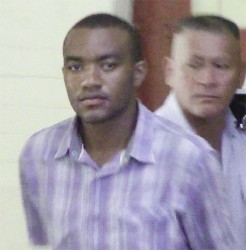 In an effort to secure bail, Ehikaodi's lawyer Bernard Da Silva told the court that his client was given an extension by someone who purported to have links with someone at the Ministry of Home Affairs. Da Silva said that Ehikaodi believed that his passport was in order, hence him exiting Guyana through a legal border. He added that his client is set on defending the charges and has since reported to situation to the Nigerian Consulate in Trinidad and Tobago. That consulate, Da Silva mentioned, is in the process of rectifying the defect.
However, Police Prosecutor Michael Grant objected to bail on the grounds that the defendant is a flight risk. Da Silva told the court that the police is in possession of his client's passport.
Subsequently, the Chief Magistrate refused bail and transferred the charge for presentation of a passport with a forged immigration stamp to the Springlands Magistrate's Court, where it will be called on August 22. The other two charges will be dealt with on August 19 at the Georgetown Magistrates' Court One.
Around the Web