An East Bank man was remanded to prison yesterday after being charged with attempting to murder a customer after a transaction went sour.
Travis Chesney, 39, of Friendship Squatting, area stands accused of wounding Wayne Stoll, on August 8, at Friendship, with intent to commit murder. Stoll remains hospitalised.
Although Chesney, who is a farmer, was not required to plead to the indictable charge, he nevertheless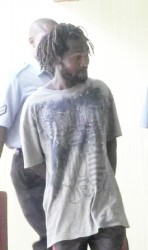 told city magistrate Ann McLennan his account of what transpired, while claiming self defence. Chesney said that Stoll bought an article from him for $3,000, but subsequently returned it, claiming that it was "fake" and asked back for his money.
Chesney said that he returned $2,000 and informed Stoll that he would be refunded the balance at another date since he had no more money. "He came to me with an annoyance," Chesney explained to the court, adding that Stoll then left only to show up again and armed with a cutlass. According to Chesney, he was at his gate when Stoll met him and lashed him with the cutlass twice, with the intent to chop him. However Chesney said that the blade of the cutlass caught him once, without causing serious injuries. "I make a defence," Chesney told the court, adding that he was unaware whether the weapon used caught Stoll.
It is the prosecution's case that the attempted murder occurred at approximately 6:30pm following an argument concerning a monetary transaction. Chesney was said to have been armed with a knife, while Stoll was in possession of a cutlass. Police Prosecutor Assistant Superintendent Deneaswar Maindranauth said Chesney stabbed Stoll to the right side chest, before making good his escape. Maindranauth further mentioned that Stoll was rushed to the Georgetown Public Hospital (GPH) and the matter was reported to the police and further investigations led to the apprehension of Chesney. Additionally the court heard that Stoll is an admitted patient at the GPH, where he is connected to tubes to remove blood from his wound.
Magistrate Ann McLennan subsequently remanded Chesney to prison and adjourned the matter to October 16.
Around the Web