On Christmas Day, while others celebrate the holiday with their families, Dr Vivekanand Bridgemohan is a lifeline for those too ill to be home for the special day.
He is the administrator of the St Joseph Mercy Hospital and for the past nine years, he has led by example and sacrificed his Christmas holidays by working. Not only does it mean being at the hospital on that day but for nine years also, he has missed his father's birthday which happens to be Christmas Day.
Dr Bridgemohan however, gives plenty of credit to his father who is a chief security officer at an air services company. His dad, he said, is proud of his son's love for humanity and his dedication to the job.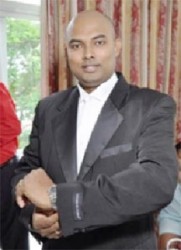 His father sees beyond his birthday even though his son has missed it nine consecutive times. Dr Bridgemohan credits his father for his patience. He said that his dad reminds him that they can meet later to celebrate his birthday. His father, he said, would much rather this type of conviction of love for humanity and human kindness be given priority over happiness and rejoicing even at Christmas time. Dr Bridgemohan recalled emergency calls which required him to treat patients during the wee hours of the morning. One such case occurred when he worked at the West Demerara Regional Hospital as superintendent, hospital administrator and doctor.
That day, he was on the Demerara Harbour Bridge and was told that a woman had just delivered and was bleeding uncontrollably. The moment he turned his car, he collided with a taxi. The accident cost him $30,000. Nevertheless, Dr Bridgemohan did not allow that to hinder him. He attended to the young mother and stopped the bleeding likely saving her life.
There was one other patient he remembered seeing who was 28- years- old and whom it was later discovered had a brain tumour. Fifteen doctors were consulted on the case but eventually the patient had to travel overseas for an operation.
It is Dr Bridgemohan's daily prayer for God to enable him to continue to be a lifeline for people in need of medical help. His prayer life is consistent and he is consoled by the results he obtains. As it relates to his working on Christmas Day, Dr Bridgemohan considers it a mild discomfort when compared to members of the public who are ailing.
Around the Web