Finance Ministry raps APNU questioning of Alexei Ramotar hiring
The Ministry of Finance yesterday rapped APNU over its planned question about the hiring of Alexei Ramotar, the son of President Donald Ramotar, for the fibre optic cable project.
In a statement, the ministry said that just months ago the Alliance for Change (AFC) had waged a campaign to discredit the Head of the Guyana Energy Agency, Mahender Sharma. It  said that  APNU's "Joe Harmon is copying from his AFC's friend playbook, by doing the same thing to Alexei Ramotar and the project he leads. It is not by coincidence that Harmon and his party chose to publicly question the merit of Mr. Ramotar. This was strategically done because Alexei Ramotar is the son of President Donald Ramotar. Alexei Ramotar was hired in 2010, prior to his father's run for Presidential Office and was deemed the most qualified for the job at that time. Today he remains one of Guyana's most qualified in his field, with a Masters in Computer Science from the University of Waterloo, over a decade of work experience where he led numerous projects in his field, and several academic awards and publications", the statement said.
APNU MP Joe Harmon has served notice of his intention to ask questions of Prime Minister Sam Hinds related to the fibre optic cable project.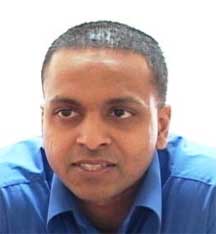 The preamble to the questions notes that the government's E Governance Project has suffered from extensive delays and there is to be modification to the design of the project.
It then asks Hinds:
(1): What are the costs overruns related to this project?
(2): Provide the resume of Mr. Alexei Ramotar as it relates to his prior experience with Fibre Optic Cable installations, designing and managing a project of this complex nature.
(3): What salary and allowances Mr. Alexei Ramotar, the person running this project is paid on a monthly basis.
The ministry statement said that APNU has called on government to provide jobs for young people and to utilize  local human resources.
"But when young professionals  return  to work for Government in a field of expertise that is sought after internationally and are not paid at a competitive  rate they otherwise would receive in developed countries, they are attacked and demoralized by the Opposition.
"Therefore, at a time where there is a high global demand for skilled personnel, politicians and policy makers  alike, should support and encourage young professionals to remain and contribute to Guyana's development and not attack them and render them collateral damage of personal political vendetta", the ministry contended.
Most Read This Week