The police have issued a wanted bulletin for the man alleged to have shot and killed police special constable Quincy Wright last Friday night during a confrontation at his girlfriend's home in Guyhoc Park.
According to a police press release, Steve Richard Bacchus is wanted by the police for questioning in relation to the death of Wright.
"Anyone with information that may lead to the arrest of Steve Richard Bacchus is asked to contact the police on telephone numbers 225-6411, 225-2227, 226-7065, 227-1149, 911 or the nearest police station," the statement said.
Bacchus, of African descent, was born June 10, 1992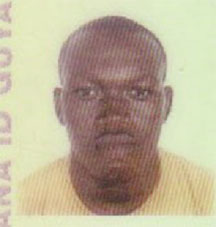 and is of medium built.
The police said that all information leading to his arrest will be treated with strict confidence.
The police had previously stated that Wright's alleged assailant was also under suspicion for a matter where a private security service's guard's gun was stolen from him on January 23.
Ashanti Sankar, 25, who witnessed the shooting, had said that she was instructed by Wright's girlfriend, Lisa Adams, to tell the other man that she was not at home. She added that when she went down the stairs she heard Wright and the man arguing.
She said she then saw the man pull out a gun and shoot Wright before fleeing.
Comments

Three persons, including the widow of one of the two Pomeroon farmers shot dead on Sunday, have been taken into custody and police say one of them led detectives to the location of an arms cache that allegedly belonged to one of the deceased.

The $3.5 billion contract for the Mazaruni Prison expansion, over which BK International Inc.

The family of Marlon Fredericks, the mentally-challenged vendor who was fatally shot by a member of the city constabulary on Sunday, has lodged a report at the Police Complaints Authority (PCA) after a police force report on his cause of death contradicted the autopsy report.
Police in 'B' Division are searching for six suspects in connection with the recent shooting at De Velde, in the Berbice River.

Grade Six students are sitting a series of mock examinations designed to prepare them for this year's National Grade Six Assessment (NGSA) scheduled to be held on the 28 and 29 of March.