Bulletin issued for man wanted in cop killing
The police have issued a wanted bulletin for the man alleged to have shot and killed police special constable Quincy Wright last Friday night during a confrontation at his girlfriend's home in Guyhoc Park.
According to a police press release, Steve Richard Bacchus is wanted by the police for questioning in relation to the death of Wright.
"Anyone with information that may lead to the arrest of Steve Richard Bacchus is asked to contact the police on telephone numbers 225-6411, 225-2227, 226-7065, 227-1149, 911 or the nearest police station," the statement said.
Bacchus, of African descent, was born June 10, 1992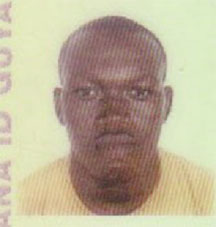 and is of medium built.
The police said that all information leading to his arrest will be treated with strict confidence.
The police had previously stated that Wright's alleged assailant was also under suspicion for a matter where a private security service's guard's gun was stolen from him on January 23.
Ashanti Sankar, 25, who witnessed the shooting, had said that she was instructed by Wright's girlfriend, Lisa Adams, to tell the other man that she was not at home. She added that when she went down the stairs she heard Wright and the man arguing.
She said she then saw the man pull out a gun and shoot Wright before fleeing.